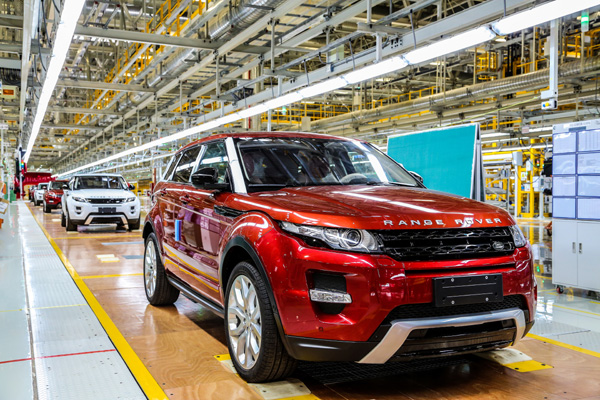 The China-made Range Rover Evoque rolled off the production line of Chery Jaguar Land Rover's plant in Changshu, Jiangsu province. [Photos provided to China Daily]
The first China-made Range Rover Evoque rolled off the production line of Chery Jaguar Land Rover's plant in Changshu, Jiangsu province, on Oct 21, signaling the joint venture is ready to begin full business operation. It is also the first full-scale automobile manufacturing facility of Jaguar Land Rover outside the UK.
The 10.9 billion ($1.78 billion) yuan plant, a joint venture between Chinese automaker Chery Automobile and Jaguar Land Rover, is designed to produce 130,000 vehicles each year.
China has been Jaguar Land Rover's largest market since 2012, accounting for almost one-fourth of its sales globally, and one in five Range Rover Evoques has been sold to China since its debut in 2011.
Locally made Evoques will reach the market in early 2015 and the automaker will make public their prices at that time.
Addressing questions whether the locally produced vehicles are equally good as those manufactured in the United Kingdom, president of Chery Jaguar Land Rover Chris Bryant said quality is the joint venture's No 1 objective.
"Chery Jaguar Land Rover remains committed to delivering excellence in its quest to lead the Chinese premium automotive industry through its historic British lineage, world-class quality and unique shared value approach," he said.
As a major milestone for the first Sino-British premium automotive joint venture, the opening ceremony also signifies the dawn of a new era for the Chinese premium automotive industry.
Yin Tongyue, president and CEO of Chery Automobile, said, "I strongly believe that Chery Jaguar Land Rover has a promising future and will provide premium auto products that exceed every Chinese consumer's expectations."
Dedicated to becoming a leading enterprise that inspires excellence in the premium automotive market in China, the joint venture has taken several steps to ensure it can provide top-of-the-line quality for its customers. These include establishing an industry leading quality control system, an advanced R&D Center and a nationwide sales network.
Equipped with top international standard press, body, paint, trim and final shops - along with an engine plant - the Changshu plant is "one of the world's most advanced and efficient manufacturing facilities", the company said.
Among other facilities, it has 306 robots that undertake 85 percent of the welding work and 20 percent of the finished models undergo full-vehicle checks at the plant's quality center, according to the company.
Bryant said another critical element to ensure quality is to make sure employees understand the quality the automaker wants to deliver.
"I will give you an example. Our first workers at the plant were hired in June 2013, more than half a year before we started operation, so that they can understand the quality requirements," he said.
Workers in key positions have received three months training in the UK and 95 percent of all workers in the plant have at least five years working experience, the company said.