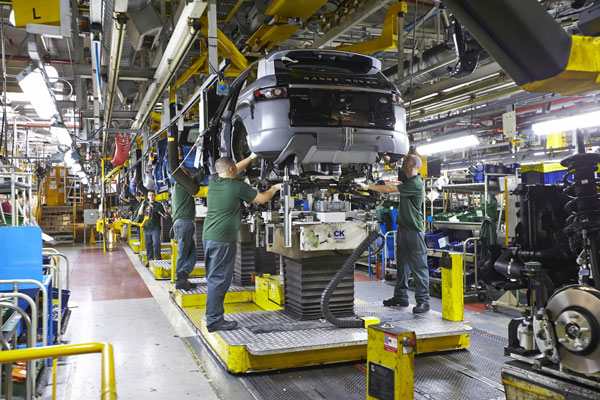 Workers assembling Land Rover vehicles in the Halewood factory in the UK, where the first locally built model Range Rover Evoque originated. [Provided to China Daily]
From Halewood in the United Kingdom to Changshu, Jiangsu province, it took only two years for the debut of Jaguar Land Rover's first locally built vehicle in China.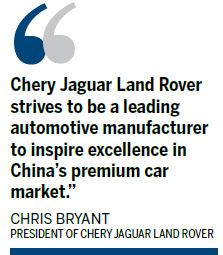 The Range Rover Evoque will roll off the production line at the Changshu plant of Chery Jaguar Land Rover Automotive Co Ltd on Oct 21, two years after the joint venture announced its establishment in November 2012.
"Chery Jaguar Land Rover strives to be a leading automotive manufacturer to inspire excellence in China's premium car market," said Chris Bryant, president of the venture.
"We will provide Chinese consumers with world-class Jaguar, Land Rover and joint venture-branded vehicles."
The fourth foreign premium automotive brand with local production in China, Jaguar Land Rover and its Chinese partner Chery invested 10.9 billion yuan ($1.78 billion) to make Changshu the first manufacturing base for Jaguar Land Rover outside the UK, as well as the birthplace of a new joint venture brand.
With a state-of-the-art R&D facility included in the facility, planned production capacity for the first phase will be 130,000 units a year.
"This year is the most important year for Chery Jaguar Land Rover. We have strong confidence to achieve all our goals. Our plant opening and the launch of the first locally built vehicle demonstrate our determination and confidence to succeed in China's premium automobile market," said Zhu Guohua, deputy president of the joint venture.
He said the Range Rover Evoque has been a successful model since its debut in Halewood in 2011. Currently, one in three Jaguar Land Rovers sold is a Range Rover Evoque.
Jaguar Land Rover now has three vehicle assembly plants, one engine plant and two product development facilities in the UK for the current 11 vehicle lines, which the company plans to extend in the near future.
According to Danella Bagnell, vehicle architecture planning director, the company will invest 3.5 billion pounds ($5.6 billion) in new product creation and capital expenditures over the next financial year.
Further expansion
Operating in 170 countries with 18 national sales companies, 74 importers and 54 export partners, Jaguar Land Rover now delivers its vehicles through 2,520 dealerships. It plans to expand the distribution network by 26 percent to 3,100 by 2016.
The company also aims to increase its dealer numbers from the current 150 to more than 200 on the Chinese mainland, going to more third-and fourth-tier cities, both for imported and locally produced models.
"As part of our strategic global growth plans, we will introduce 50 new products or updates over the next five years," said Bagnell.