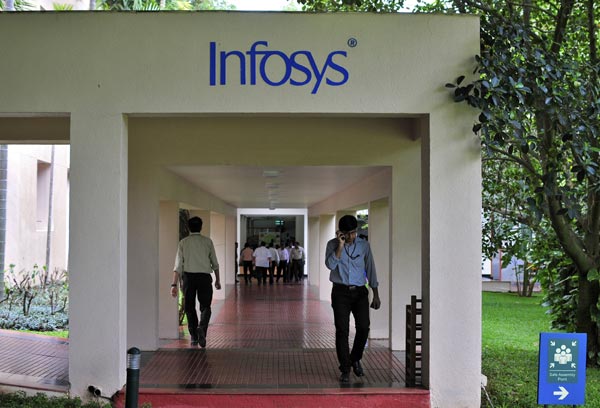 Employees at the Infosys campus in the southern Indian city of Bengaluru. The chief executive officer of the company's China unit, Rangarajan Vellamore Rathangapani says he plans to focus on "driving innovation", through strategic, longterm parterships with Chinese companies. [Photo/Agencies]
Infosys looking to foster innovation, says China unit head 
Information technology companies from India can play a vital role in the "going global" efforts of Chinese companies and help provide connections in key markets like Europe, North America and Africa, according to the China head of a leading Indian IT firm.
Rangarajan Vellamore Rathangapani, chief executive of the China operations of the Bengaluru, India-based Infosys Technologies Ltd, believes that innovation is another area where Indian and Chinese companies have a lot to offer each other. "Infosys will focus on driving innovation in China, particularly to help Chinese companies expand and achieve business success in global markets," he said.
Rathangapani said that while China's economic prowess has been growing steadily, it is the global resonance of the "Made in China" image that has been truly remarkable. However, it is also important for China to further embellish the image by having a string tech/IT presence in key global markets. "This is where companies like Infosys can play a big role," he said.
The chief executive, who has been in China for more than seven years now, says he has witnessed first-hand China's transformation and also learned some of the key attributes that have shaped the nation's success story.
"From Alibaba to Baidu to Huawei, there is no doubt that 'Made in China' is now a strong soft power. From A to Z, we have Chinese companies and brands that are true global leaders," he said, citing companies such as Alibaba, Baidu, Chery, Huawei, Lenovo, Tencent and ZTE.
According to Rathangapani, the nation's forward-looking leadership and their collective use of wisdom and intelligence for national benefit have been instrumental in its rapid advances on the global stage. "Chinese leaders listen, work hard, think and often act on the big vision for their own province, city and county," he said.
Adaptability is another unique trait that has powered the success of Chinese companies. "China has the inbuilt ability to learn from its mistakes and adapt to the rapid changes. More importantly, it is the hard work and natural discipline of Chinese entrepreneurs and business leaders that have shaped the success. Chinese enterprises and leaders tend to follow the rules and pursue their goals, and they often know how to separate business from emotions," he said.
"Such efforts have borne fruit and the proof to this is the presence of several Chinese companies in the Fortune 500 list of top global companies. Infosys will look to foster and develop strong business ties with as many Chinese companies as possible," Rathangapani said.