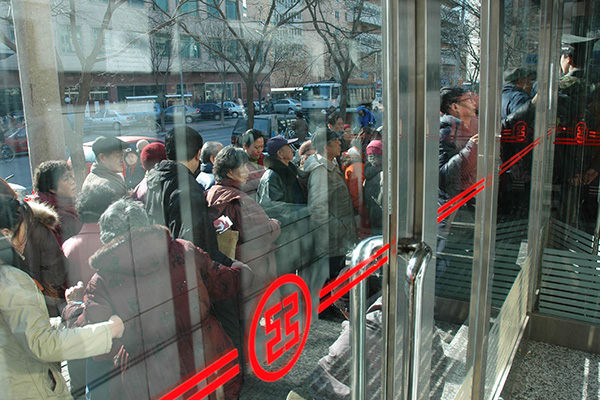 People waiting outside an Industrial and Commercial Bank of China's branch in Beijing. Charles-Edouard Bouee, the French CEO of Roland Berger Strategy Consultants, said the Chinese government should be careful with SOE transformation because much of it involves public services. [Photo provided to China Daily]
China is no longer technically an emerging market, but should be seen as a maturing market with more competition and opportunities, according to the head of a major international business consultancy.
Charles-Edouard Bouee, the French CEO of Roland Berger Strategy Consultants, a Germany-based company with some 50 offices and 2,400 employees in 36 countries, said China still faces the challenge of growing its income per capita to avoid the middle-income trap that other countries have fallen into. But the market is changing, with new players emerging in both traditional and tech sectors, and the government is also changing the economy's shape.
"For international companies, it is a new China. It still has a lot of possibilities, but they should not look at China as an emerging market but as a maturing market, where there's more competition, more opportunities. The way you have to operate is different," he said in an interview with China Daily. Bouee is based in Shanghai, Munich and Paris, according to the company's website.
There are two elements that international companies should keep in mind, he says. Chinese companies have become stronger and are not just following the low-cost model anymore, but now produce new products and ideas. Also, Chinese consumers now have many demands, and they are more educated.
"They don't just accept 'made in France' or 'made in Germany' at face value. They want to know the brand, the products," he said.
"Now there's more supply, and more competition from international firms and Chinese firms. Only those who evolve, who are willing to adapt, who develop their brands and their products, will win."
Bouee joined Roland Berger in 2001 as senior partner in the Paris office. He began working for the company in China in 2006 and became company CEO over a year ago. He is one of the few foreigners to get permanent residency in China.
Bouee said financial reform, hailed as the area where changes have been the most rapid and prominent, will have a huge impact on the global economy. Despite great turbulence in China's stock market and the recent depreciation of the yuan, reforms have not stopped, he said.
"China is at a phase when the banking sector and the financial sector have to be better regulated and have to evolve. All these reforms including P2P (peer-to-peer financing), lending reforms, are going the right direction, it is just a lot of things happening at the same time, with tremendous impact."
Because China's government is managing a comprehensive transformation of the economy, turbulence associated with a single measure does not taint the totality of the efforts, Bouee says. Too many people have a black-and-white view of China, with some saying everything is perfect and others that everything is terrible, he said.
He likes China's feeling of moving fast, but he also notes progress in less obvious areas, such as reform of State-owned enterprises, which multinational companies in China have long complained is too slow. He says people need to be more patient and remember that Europe also went through the same process with their State-owned enterprises.