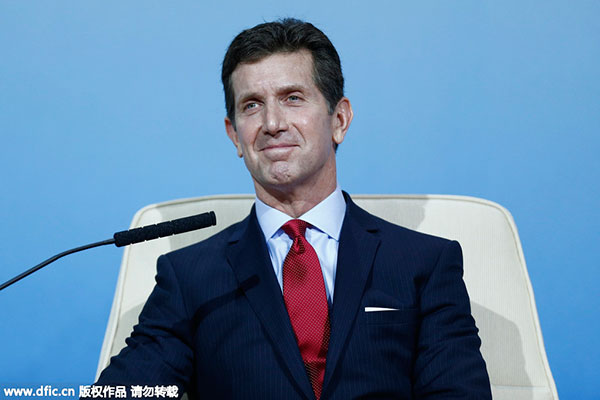 Alex Gorsky, Chairman and CEO of Johnson & Johnson, attends the 2014 Asia-Pacific Economic Cooperation (APEC) CEO Summit at the China National Convention Center in Beijing, November 10, 2014. [Photo/IC]
Prospects still promising and plentiful, says Johnson & Johnson's Alex Gorsky
Unlike most of his counterparts, ALEX GORSKY, the chairman and chief executive officer of Johnson&Johnson, a multinational manufacturer of consumer and healthcare products, is convinced that there are hosts of opportunities and a bright future for MNCs, particularly in the research and development sector. Gorsky, the CEO of J&J since 2012, also believes that companies should reorient themselves to the "new normal" of growth in China and readjust their expectations. The 55-year-old chief executive and industry veteran spoke at length recently to China Daily on his vision for J&J and how he perceives the future for his company in China. Excerpts from the interview are below:
You have had an extensive career in the military. Could you share with us the valuable insights that you have gained along the way?
I have been incredibly fortunate in my career to work for only a few organizations, one of this being the United States Army and the other being Johnson & Johnson. The most valuable lesson and commonality between them is the "sense of purpose" that both represent.
In the military, there was a real sense of service, purpose, mission and a strong focus on taking care of people. I try to apply these core values and that philosophy to what I do in J&J.
At Johnson & Johnson, our purpose is embodied in the Credo-a document and a philosophy authored by the son of our founder (Robert Wood Johnson).
This is the real essence of our organization and one that continues to inspire all our employees. It has certainly inspired me and given me a sense of responsibility. As a company, J&J will always try to live up to these commitments.
As the head of a huge multinational company, what type of leader do you think you are?
I think it is important for chief executives to be real and authentic leaders. This is especially so as employees have certain expectations about the level of engagement and communication with top management.
They want the CEOs to have actual conversations with external audiences and employees.
As far as I am concerned, most of my actions are focused on engaging, connecting and communicating with all stakeholders in an authentic and genuine fashion.