Healthcare reforms remedy to hospital violence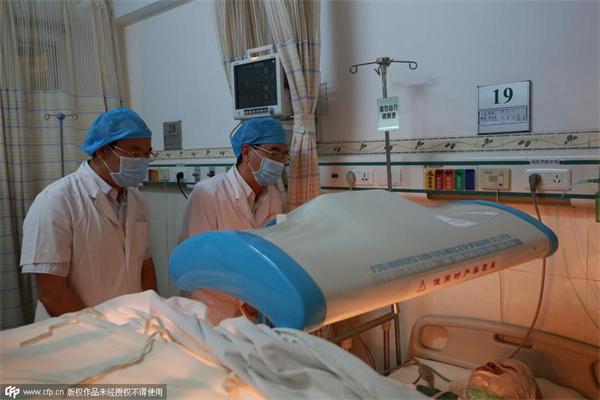 A cancer patient pours gasoline over a doctor and set him on fire at the No 1 Hospital Affiliated to the Guangxi Medical University in Nanning in the Guangxi Zhuang autonomous region. [Photo/CFP]
On Tuesday, a cancer patient poured gasoline over a doctor and set him on fire at the No 1 Hospital Affiliated to the Guangxi Medical University in Nanning in the Guangxi Zhuang autonomous region. The doctor survived, but suffered severe burns. This is the 12th violent attack against a doctor in 20 days in China. Comments:
Doctors deserve society's respect and understanding, they are also ordinary workers, and their current high-pressure environment, huge workload, and low salaries should be understood by society.
Chinese Medical Doctor Association, June 10
We strongly condemn the violence against doctors, appeal to the whole society to condemn the criminal actions against them, and hope the law-enforcement departments can deal with the violent attackers according to law.
National Health and Family Planning Commission, June 8
The various levels of prosecutors must pay special attention to the violence directed toward doctors recently, strengthen legal supervision and proceed the cases according to the law to create a safe environment for both doctors and patients.
The Supreme People's Procuratorate, June 17
To solve the issue completely, the government must make breakthroughs in healthcare reform. Medical resources need to be allocated more fairly across the country. The small and grassroots hospitals should improve their services to win people's trust in their ability to treat common diseases. Doctors' salaries should reflect their knowledge, experience and capability, rather than the treatments and medicine they prescribe patients. The medicine prices should be decided chiefly by competition, with effective government supervision, to curb the corruption involved in medicine sales and approvals.
Xinhuanet.cn, June 15