Not all share bike riders embrace the sharing concept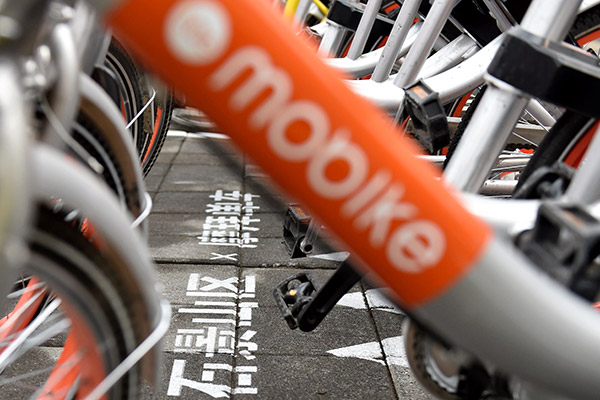 Shared bikes park at a recommended site in Shijingshan District of Beijing, March 17, 2017. [Photo/Xinhua]
Last weekend, I was hanging out downtown with a friend and my sister. We were walking through a public spare when all of a sudden a heated argument between a student and a middle-aged woman arrested our attention.
Out of curiosity, we all stopped to look and found that they were arguing over an Ofo bike which has recently become quite popular in this city, along with two other bike-sharing companies including Mo-bike.
From what we observed, it seemed that the student saw two unoccupied bikes on the square and decided to peddle one away. But the woman claimed that she was asked to guard the two bikes for her friends who had gone to the toilet. So the woman held the bike handle-bar and refused to let it go. She told the girl loudly that she had to call her friends first to check with them before agreeing to let go of the bike.
The student found this absurd and lashed out the woman by saying that. "What is wrong with you? This is not a bike personally owned by you. This is supposed to be public facilities. You have absolutely no right to keep it." After hearing this, the woman shouted that she was going to slap the girl if she talked to her like that ever again. The atmosphere got increasingly tense. Both parties seemed to be determined to win the argument. The student then apologized to the woman in a not so friendly tone and started trying to talk some sense into her and convinced her to let go of the bike.
As all this was happening, nobody seemed to want to intervene during the heat of the moment. In fact, there was a vacant bike lying a few meters away from them. We walked away before witnessing the end of the tussle.
While walking, we were discussing who was to blame. I personally understood why the girl was so angry, even though I might not agree with her taking out her anger on the woman in a public place which was only going to make her less willing to budge. My friend and sister seemed to believe the girl should give up arguing with her and simply use the third bike lying around. They reckoned sometimes we simply can't win no matter how reasonable we may sound.
Bike-sharing services can serve people very well, considering that the underground system in this city is still under construction, which has to block many roads and worsen the already terrible traffic. So, these bikes are welcome to the public considering that it can be very cheap. Furthermore, people are doing exercising while peddling and can make some contribution to environmental protection. This is more like shooting a few birds with one stone.
But the new bike-sharing fever is accompanied with problems. For a whole week, I kept seeing a Mo-bike at the front door of my neighbor's flat where it's not supposed to be parked. It was there every morning when I headed to my workplace and it was still there every night when I came back home. Of course, it may not be the same one.
Also, I have heard, more than once, from friends claiming that they would like to bike lock up the bike or take it home. Apparently, some people still haven't fully realized that it's illegal to do that.
Of course, the government has realized this and some people have been warned or even suspended from their jobs for violating the rules of using these bikes. As this is still pretty new, both the public and the companies owning these bikes need time to adjust. But hopefully, more people in the near future will stop treating the public facilities like private possessions.
Aside from this problem, I really hope the government can make the roads in cities more bike-friendly. From my personal perspective, it's pretty risky to ride a bike in Chinese cities. Things are probably much better in some metropolises, but here in Changsha, I don't really see separated bike lanes. Even though some lanes are labeled as bike lanes, they are most of the time unfortunately occupied by private vehicles or motorcycles. Having to watch out for traffic from all directions seems to be pretty common in this city. I have become accustomed to being very cautious when walking across a road. Even though there are traffic lights everywhere, it's not safe.
It would be really nice to see China become a kingdom of bikes again. This will undoubtedly help address the urgent air pollution and meanwhile help improve public health. But still a lot more measures should be taken by both the government and the public before the desirable goals are achieved.
(Opinions of the writer in this blog don't represent those of China Daily.)