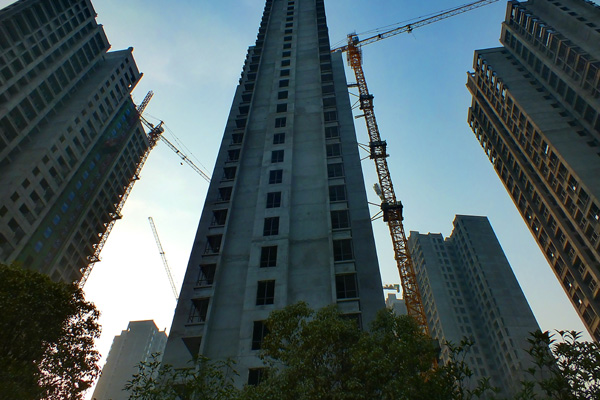 A property construction site in Yichang, Central China's Hubei province, Jan 20, 2015. [Asianewsphoto by Liu Junfeng]
China will restart the long-halted Real Estate Investment Trusts (REIT) program in the first half of this year, the Xinhua-affiliated Economic Information Daily reported on Monday.
Citing unidentified official sources, the newspaper said the top leadership has reached consensus on restarting the alternative funding channel. While some related policies still make it difficult to expand the program nationwide, some pilot cities would firstly introduce the program.
REITs are trust funds managed by specialized investment organizations. They collect capital from specific investors by way of income certificates and then allocate the funds for investment. They are favored by economists, developers and financial professionals alike as the funds securitize and invigorate existing assets, cut investment and holding costs for developers, and provide an alternative option in the capital market.
The concept was introduced into China more than 10 years ago but so far none real REITs product has been sold, delayed by authority's fear over overheated property market and US's lesson in subprime mortgage crisis.
The market has called for the restart of the program since last year amid current downturn and difficulties for developers to raise fund. Previous reports said Beijing, Shanghai, Shenzhen and Guangzhou would be the first four cities to launch REITs.