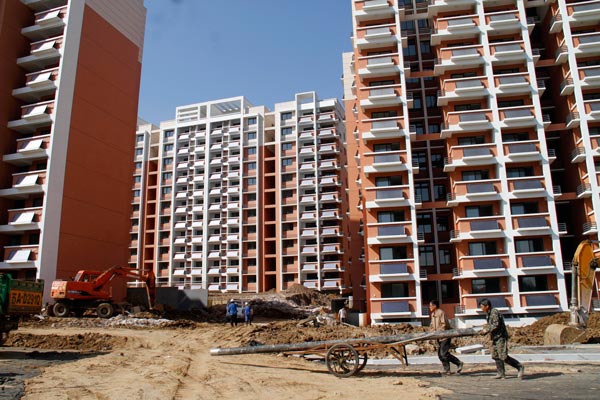 A property construction site in Nanjing, capital of Jiangsu province. [Photo provided to China Daily]
BEIJING - China's real estate investment continued to grow in 2014 but at a much slower pace than the previous year, marking increasing pressure on the overheated sector, official data showed on Tuesday.
China's real estate investment gained 10.5 percent year on year to 9.5 trillion yuan ($1.55 trillion) in 2014, data from the National Bureau of Statistics (NBS) showed.
The growth rate was down by 9.3 percentage points from 2013 after a losing streak throughout last year.
China's property market experienced a slump with home price drops in most cities as developers were confronted with sluggish sales, lower fund raising and diverging markets.
Investment in residential buildings, accounting for 67.7 percent of total investment in the real estate sector, increased 9.2 percent from a year ago in the last year, data showed.
Many other major investment indicators declined in 2014. Property developers purchased 14 percent less land than the previous year. New construction dropped 10.7 percent from a year ago.
However, Bob Liu, an analyst at the China International Capital Corp (CICC), pointed out there is already a limited downside for property investment growth going ahead as sales improved slightly at the year end which will stimulate investment in coming months.
Housing sales remained lackluster for the full year. The NBS said more than 1.2 billion square meters of commercial buildings were sold in 2014, down 7.6 percent year on year, and sales volume declined 6.3 percent from a year ago to 7.63 trillion yuan.
The new data unveiled the sector was also plagued by piling stocks as unsold area of commercial buildings increased nearly 130 million square meters from 2013 to over 620 million square meters by the end of 2014.
The unsatisfying performance in the property sector was reflected by earlier price data published by the NBS, which showed 66 of 70 large and medium-sized cities in China saw new home prices drop in December from the previous month.
A research note of Nomura Securities said on Tuesday the correction and deleveraging in the property market, along with other factors including tighter controls over local government debt, will contribute to challenges to China's economic growth in 2015.
China's economy grew 7.4 percent in 2014, in line with market expectations and registering the weakest expansion in 24 years.