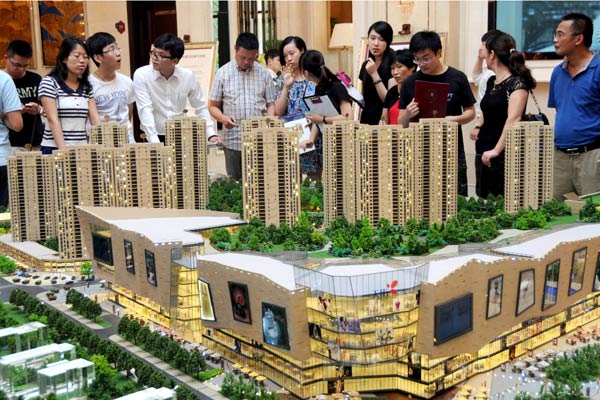 Potential homebuyers examine a property project model in Hangzhou, capital of Zhejiang province, Aug 31, 2014.[Photo/Xinhua]
China's home-price decline continued to ease in December, as fewer cities saw falling prices, the National Bureau of Statistics said.
Prices of new homes dropped from the previous month in 65 of the 70 cities that the bureau tracks, according to its statement on Sunday. That compares with declines in 67 cities in November.
New home prices rose 1.2 percent in December in Shenzhen, the only city among the 70 that saw a month-on-month price increase. It is the first time in four months that an NBS-tracked city saw an increase.
"The statistics show the recovery track has been finalized. The month-on-month decline rate continues to fall," said Yan Yuejin, an analyst with E-house China R&D Institute.
"Behind this is the accelerated inventory reduction that has cut developers' incentive to boost sales with lower prices. Some even began to raise their prices."
Housing sales have been rebounding in major cities since October, after the central bank eased mortgage restrictions on Sept 30 and cut interest rate on Nov 21.
Price changes in first-tier cities' pre-owned houses told more of the latest market sentiment. In December, prices of pre-owned homes in all four first-tier cities-Beijing, Shanghai, Guangzhou and Shenzhen-rose over the previous month. The price increase in Shenzhen was the most, at 0.7 percent.
"If a developer plans a price increase, it has to consider various factors, including peer competition and annual sale target-all made it wary about doing so. By comparison, a landlord of an old home has fewer constraints. Landlords respond faster to market sentiment, which translates into earlier price increases in old homes than in new ones," Yan said, explaining the Shenzhen price spike.
Barclays Plc said that if the momentum is maintained, nationwide home sales may see the first year-on-year increase in 12 months in January, signaling the bottom of the market.
Home sales in December rallied from a high in November. Home sales in 30 major cities tracked by E-house in December rose 19.5 percent over November and 26.7 percent higher from a year earlier. Based on this rate of sales, it would take an average 14.3 months to sell off developers' inventories, a number that has been dwindling since October.
The momentum eased a bit in January, however. China Index Academy, another private research institution, said housing sales between Jan 5 and 11 declined 5.3 percent over the previous week in terms of floor space. However, that still represented a 30.4 percent year-on-year increase in first-tier cities and a 25.9 percent one-year increase in third-tier cities.
Yan said weaker sales do not equal a weaker market sentiment, as the one-month drop was due to a high comparison base and lower new home supply. A survey of potential buyers showed sentiment is at a record high.