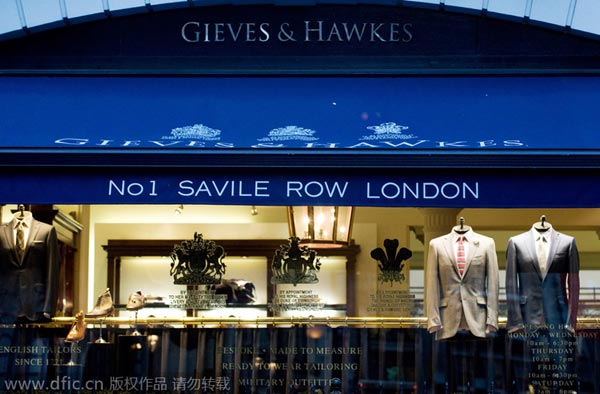 A general view of Gieves & Hawkes store on Savile Row in London. The British tailors selected by Prince William to create the uniform he will wear for his wedding with Kate Middleton. London, England Feb 02, 2010. [Photo/IC]
The 205-year-old heritage luxury brand Gieves & Hawkes from the United Kingdom has been given a modern and international twist since its acquisition by Chinese investors in 2012.
The fashion wear has started to look younger, but the UK gentleman's touch nevertheless remains with the design, company officials say. Creative director Jason Basmajian says it is like "speaking an international language but keeping the accent British".
Such a feat is not easy to achieve because it requires great understanding of the essence of British taste and international consumer demand, but Basmajian says it is done by balancing style with fashion, dressing a gentleman without sticking to any specific stereotypical design.
"We are about elegance. There's a bit of timelessness, but I think men want to feel modern, and they want to feel younger, and the cuts are all very flattering, so it's very precise cuts and very modern," Basmajian says.
The history of Gieves & Hawkes is the story of two separate houses, Gieves, the celebrated supplier of the British Royal Navy, and Hawkes of the British army. Both were established in the 18th century, and they came together in 1974 to become Gieves & Hawkes.
The brand has maintained its heritage and association with the British royals, the company says. Today it still holds all three royal warrants, given that it supplies clothing to Queen Elizabeth II, the Duke of Edinburgh and the Prince of Wales.
Its flagship store also holds the wardrobe for the uniform of the bodyguards to the British monarch-known as Her Majesty's Bodyguard of the Honorable Corps of Gentlemen at Arms-used for special occasions, such as when the British monarch receives important overseas guests.
Over the years, Gieves & Hawkes has continued to dress many celebrated men both in the UK and abroad, the company says, but in more recent years it has grown fast internationally and most predominantly in China.
One factor behind the China story is the 2012 acquisition of the brand by Hong Kong-headquartered Trinity Ltd, which is a part of the Fung Group.
With the hope to transform the brand and make it more relevant for the modern man, Trinity appointed Basmajian as the new creative director. Company officials say his international background was a good match for the Trinity management vision for taking the brand forward.