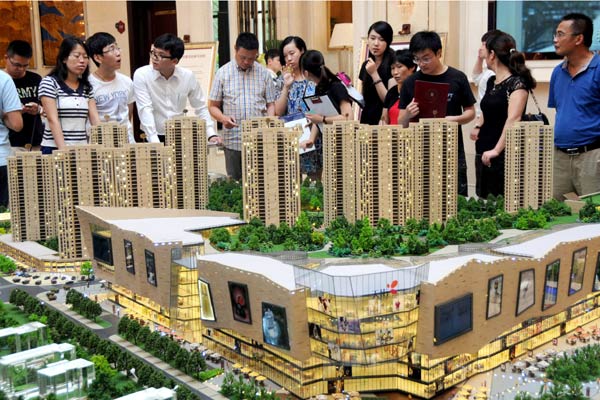 Potential homebuyers examine a property project model in Hangzhou, capital of Zhejiang province, Aug 31, 2014.[Photo/Xinhua] 
National home sales in December recorded a surge over the previous month, wrapping up 2014 with the second-highest sales volume in years.
Deducing from monthly aggregate data of the National Bureau of Statistics, home sales in December rose 41.7 percent by floor area from November. By value, sales rose 41.4 percent month-on-month.
These were extraordinary figures considering that in July, at the trough of the housing market, sales slumped 32 percent from June and the absolute sold volume was just 6.8 percent of the December figure.
Behind this dramatic turnaround was a slew of stimulus policies, including a move by the central bank to ease mortgage restrictions on Sept 30 and cut interest rates on Nov 21.
Sales have steadily picked up since October, and by November sales rose 14.8 percent month-on-month. Even that increase was dwarfed by December's growth.
The explosive growth at year-end has pushed annual home sales to 1.05 billion square meters, down 9.1 percent from 2013 but larger than in 2011 and 2012. That surprised many analysts as they held a pessimistic outlook on the property market even after the stimulus policies.
"Amid the downturn in the middle of the year, there was a pervasive saying that China's housing market has moved from the 'golden era' to the 'silver era'. But what the data showed is that sales were actually better than 2011 and 2012," said Ding Zuyu, executive president of E-House (China) Holdings Ltd.
Yan Yuejin, an analyst with E-House, said a big reason for the boom was that many developers sought to post a good full-year performance, which prompted them to boost sales with lower prices. The unleashing of pent-up demand amid a changing outlook was another reason.
The improvement was accompanied by an easing in price declines. The average new home price in December declined 0.2 percent over November, compared with 0.4 percent drop in November. Housing prices in first-tier cities began to rebound.
However, real estate investment lagged behind the change in sales.
According to the NBS, national real estate investment growth further slowed to 10.5 percent in December from 11.9 percent in November.
Finance received by developers fell 0.1 percent over a year earlier, down from 0.6 percent growth in November, which underscored the mounting stress on developers' cash flows.
New housing starts slumped 10.7 percent year-on-year, down from a 9 percent drop in November.