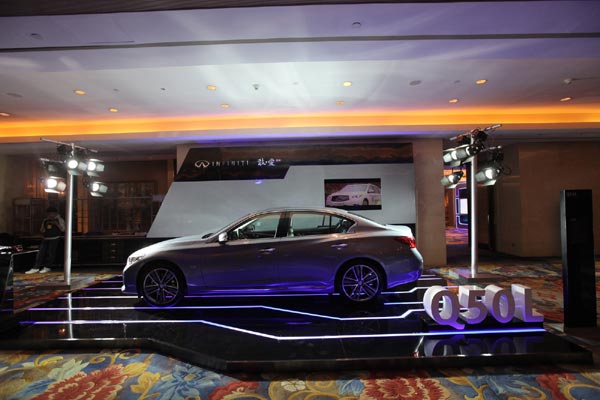 Dongfeng Infiniti hit the Chinese market with its first locally produced model, the Q50L, in November 2014. [Photo/China Daily]
Infiniti will further localize its development in China in response to the Chinese government's economic transition and innovation driven policies, said a senior company executive.
"We will deepen our localization strategy in the key areas of brand, product, production and management," said Daniel Kirchert, managing director of Infiniti China and president of Dongfeng Infiniti, at the Future Forum inaugural summit in Beijing on Jan 20.
"The brand will further communicate the 'Gan Ai' family brand spirit and establish emotional resonance with young-minded premium consumers," he said.
According to Kirchert, Infiniti will deliver more tailored products for Chinese consumers in the future, and increase share of localized vehicles in total sales to more than 50 percent when the brand hits the 100,000 annual sales target in 2018.
The number of Infiniti dealers in China grew from 66 to 85 in 2014. In the coming years, the brand plans to add 25 to 30 new stores each year and further penetrate small cities.
In December, Infiniti implemented its upgraded dealer store standard IREDI (Infiniti Retail Environment Design Initiative) Enhancement to further improve its service quality.
Last September, Dongfeng Infiniti Motor Co Ltd was established as the joint venture between Nissan Motor Co Ltd and Dongfeng Motor Corp.
Dongfeng Infiniti hit the Chinese market with its first locally produced model, the Q50L, in November.
In the same month, the company unveiled the first localized SUV, the QX50 long wheelbase, at the Guangzhou Auto Show.
According to the company, the QX50 long wheelbase will be available to the Chinese market during the first quarter of this year.
The company sold 30,046 vehicles in China in 2014, which was an annual increase of 76 percent and marked the fastest growth among premium automobile brands in China, according to Dongfeng Infiniti.
In the long term, Infiniti aims to raise annual sales in China to 100,000 vehicles by 2018, more than half of which will be locally produced models.
Kirchert said he believes China's automobile industry is in "new normal" mode, with a relatively stable growth outlook for the future, after years of explosive growth.
He said Infiniti remained optimistic about the future of China's automobile industry, as the nation is already the world's largest auto market.
"Currently German brands account for more than 76 percent of the market in China, but their market share is less than 50 percent in the mature US market. That demonstrates great room and opportunities for emerging premium brands like Infiniti that will be a strong alternative to the German brands in China," Kirchert said.