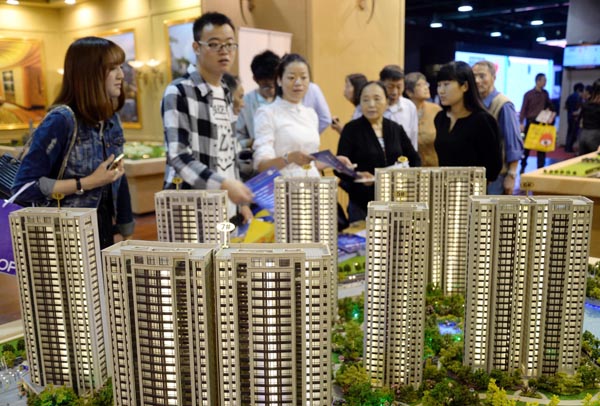 Potential homebuyers examine a property project model at a real estate promotion event in Hangzhou, capital of Zhejiang province, Otc 24, 2014. [Asianewsphoto by Shi Jianxue]
HANGZHOU - The real estate market in East China's Zhejiang province recovered in the last few months of 2014 following a series of easing measures.
In August, authorities in Zhejiang lifted restrictions that prevented residents from buying more than two homes. A month later, the central bank eased mortgage rules.
Property sales jumped 14.6 percent year on year to 26.3 million square meters in the August-December period, according to a report delivered to the annual session of the provincial legislature.
The strong recovery in the second half meant whole-year sales decline narrowed to 4.3 percent from 25.6 percent in the first quarter.
Investment in the property sector recovered modestly to 16.8 percent for the whole year from 16.2 percent in the first quarter, it added.