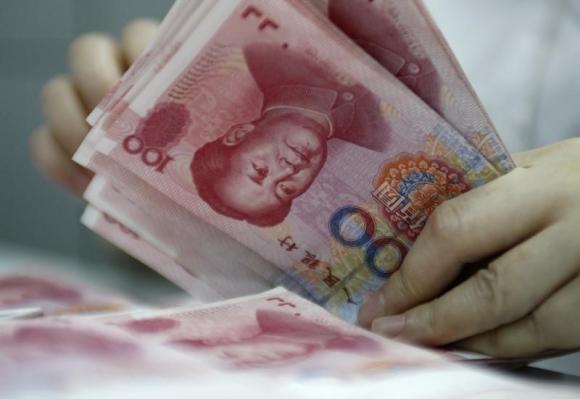 An employee counts yuan banknotes at a bank in Huaibei, Anhui province June 22, 2010.[Photo/Agencies]

Traders 'must accept' increased volatility with further opening of foreign exchange markets
One of the country's leading economists is predicting the Chinese currency will experience ongoing fluctuations as the interbank foreign exchange market opens further to more diversified overseas investors.
Liang Hong, chief economist at China International Capital Corporation, said on Thursday she expected opportunities to open up in the market for foreign financial institutions that specialize in foreign exchange trading and cross-border businesses.
Her comments came as the People's Bank of China, the country's central bank, announced it planned further opening of the onshore interbank foreign exchange market to qualified outboard financial institutions, once they had registered as members of the China Foreign Exchange Trade System.
Foreign members will be able to trade in all products listed on the system, including the yuan's spot exchange, and the forward, swap and options exchanges, according to a statement on the PBOC's website. "The move is likely to accelerate trading volumes in the onshore interbank foreign exchange market," the CICC economist said.
"Traders can expect larger volatility in the future, and will need to take measures to hedge risks. The previous 'one-way' appreciation or depreciation will become 'two-way' fluctuations."
The central bank also announced that trading hours for the yuan, which now close at 4.30 pm Beijing time, will be extended to 11.30 pm from Jan 4.
The opening will remain unchanged at 9:30 am, and the daily yuan closing price will be fixed at its spot exchange rate against the US dollar, at 4:30 pm.
On Aug 11, the central bank announced changes to how it sets the daily fixing exchange rate against the US dollar, allowing market makers to submit prices in reference to the previous day's yuan close, foreign exchange demand and supply, as well as changes in major currency rates.
The closing price is an important reference for market makers or big foreign exchange traders in the China Foreign Exchange Trade System the next day.
The spot exchange rate of the yuan is now allowed to fluctuate a maximum 2 percent up or down from the daily fixing exchange rate.
"Extending the trading time is an important reform to open up the currency market to foreign participants, and it will help remove the difference in the yuan's prices in onshore and offshore markets," the PBOC statement said.