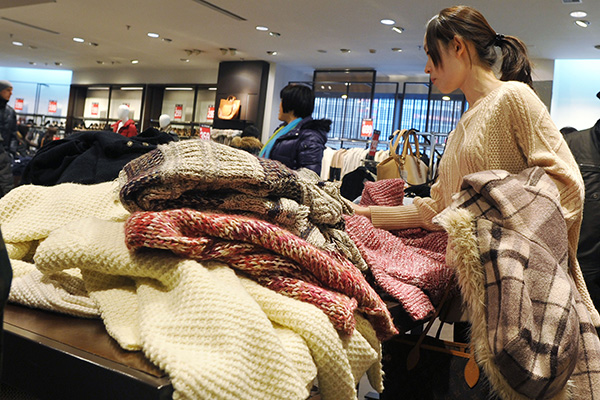 A shopper looks at items at a Zara store in Shanghai. Foreign brands are seeking to lure more young customers by offering stylish designs at cheaper prices in China. [Photo provided to China Daily]
The fashion industry in China appears to be fast approaching a tipping point.
While traditional clothing brands are trying to ride out rough weather, foreign retailers are busy carving out a niche for themselves in the marketplace.
Local companies have been forced to shut hundreds of their stores this year, squeezed by increasing costs, high levels of inventory and rising rent. Flagship outlets have turned discount stores or, worse, disappeared.
Bosideng Corp, the world's largest down jacket-maker, is a classic case. Its latest financial results reflect its woes. By the end of March, it had closed 5,053 stores during the past 12 months, leaving it with more than 6,000 stores.
According to its earnings report, sales of down jackets, which used to generate its largest chunk of income, fell more than 30 percent year-on-year.
Revenue declined 24 percent and profit plunged 81 percent to 132 million yuan ($21.26 million), the lowest level since it went public in Hong Kong in 2007.
Bosideng said the warm weather last winter before Spring Festival, the peak season, had damped down jacket sales. The company plans to clear the inventory and optimize its retail network by closing stores.
Du Ni, a 26-year-old white-collar worker in Beijing, thinks down jacket styles here are a bit old-fashioned, and expensive as well. It's not so much about Chinese or foreign brands as style and price, she said.
Besides Bosideng, Belle International Holdings Ltd, the biggest retailer of women's shoes in China, shut down 167 stores during the first quarter of this year. Its sales revenue fell 7.8 percent year-on-year.
Chinese menswear brands such as Youngor Group and Saint Angelo, and clothing firm Shanghai Metersbonwe Group are transforming their business models by closing stores and acquisitions.
Factors like rising operating costs, saturated markets, and the impact from e-commerce retailers have hit Chinese fashion brands hard, said Wang Lin, senior analyst at domestic research company Analysys International.
"(Besides) there are more and more young people paying attention to lifestyle and the quality of life, and young people prefer online shopping ... Consumers at even second-and third-tier cities, and rural areas, can shop and pay online easily now. It's rational for retailers to develop a new market in e-commerce," said Wang.
Some Chinese sportswear companies such as Anta Sports Products Ltd have been tweaking their business model to seek new opportunities to grow profit. They are eliminating traditional businesses that are riddled with weak growth.