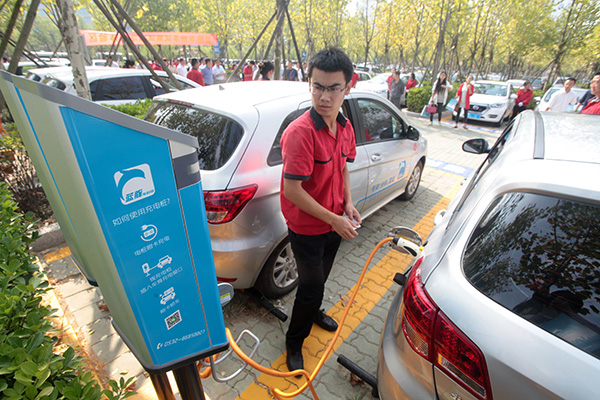 A driver uses a newly installed electric vehicle recharging post in Qingdao, Shandong province. [Photo provided to China Daily]
Crucial developments are in the pipeline as more environmentally friendly vehicles hit the streets. Below are the four key areas which could revolutionize the industry:
EV charging standards
The National Energy Administration founded the Electric Vehicle Charging Infrastructure Promotion Alliance on Oct 12. The aim is to accelerate research and set a standard for charging electric vehicles.
The alliance can help major electric carmakers, energy suppliers, charging facility manufacturers and operators, telecom providers and third-party organizations to evolve a universal standard.
Dong Yang, secretary-general of the China Association of Automobile Manufacturers, said there are key challenges that must be addressed.
Motorists need to have easy access to charging posts, with a compatible interface involving a socket in the charging post and a plug in a car. There must also be a reliable payment method by creating universally acceptable cards.
Last year, China and Germany agreed to have a compatible electric car charging interface and communication protocol for data transfer between the post and the car.
"China's new charging standard is set to have an interface similar to the European standard, but (it) should not copy the voltage, current and communication protocol from Europe," Marco Hecker, managing partner of Deloitte China Automotive Consulting Practice, said. "The charging interface could be replaced or modified later. However, incompatible communication protocol would mean high investment, as it relates to the electronic control unit in a car."
Many car manufacturers are participating in the standard-setting process, hoping to avoid costly modification and redesign in future.
Electric carmaker Tesla Motors, which is based in the United States, may face financial problems if its billion-dollar facilities in China are found incompatible with the evolving local standard, according to Hecker.
Home recharging units
New homes must have electric vehicle recharging facilities in their parking lots, or at least be ready to install them, according to a guideline issued on Oct 9.
The target is to meet demand for recharging 5 million electric cars by 2020. The rule that at least 10 percent of public parking lots must have, or be ready to install, charging posts stays.
On average, every 2,000 electric vehicles should have at least one charging station. So, an inter-city fast-charging network is being planned to cover the major cities by 2020 in two steps.