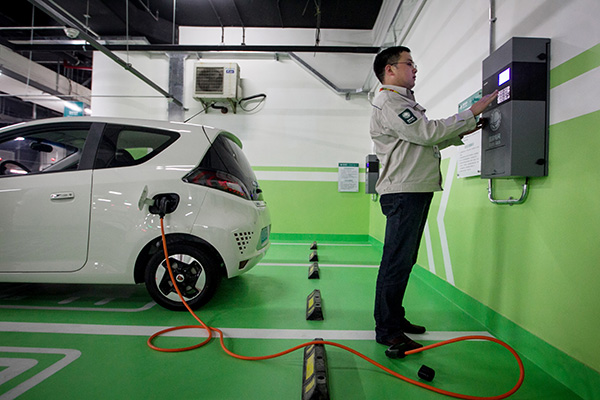 A State Grid engineer examines charging facilities in Shanghai. The State Council recently released a guideline to accelerate the construction of electric car charging facilities. [Photo/China Daily]
Alliance formed to promote infrastructure construction
The construction of electric vehicle charging facilities in China is speeding up with strong government support.
Last week, the National Energy Administration established an alliance to promote the construction of charging facilities in Changzhou, Jiangsu province. It also held a meeting for industry insiders to share their experience and discuss how to solve the problems they are facing.
"Charging is the biggest problem for individual electric car users, and our next step is to solve the problem by several moves," said Zheng Shanjie, deputy director general of the administration.
The purpose of establishing the alliance is to deal with problems such as payment and unification between charging posts and electric cars.
Earlier this month, the State Council released a guideline to accelerate the construction of electric car charging facilities.
It required that newly built residential properties must either install recharging facilities in all their parking lots or have all the relevant components in place to do so.
An intercity fast charging network is planned to cover the nation's major cities by 2020 through two steps: to promote such construction in the regions surrounding Beijing, Shanghai and Guangzhou, then for regions in central, western, and northeastern China.
Chen Ning, Deloitte China Automotive Consulting Practice Director, said: "The highlight is that 100 percent of new residential property should at least be ready for charging post construction, because as soon as the conditions are in place, residents may install charging posts on their own.
"The National Energy Administration is expected to release a guideline to allow individuals to install charging posts and share them with other electric car users, either for free or for a fee."
At present all charging posts are installed jointly through property management companies and the charging post constructors. Usually, car owners have to ask the property management companies first, and the electric car dealers do business with the constructors. The response may be that the property's electrical capacity cannot support the use of charging posts.
Among the charging post construction and operating players, there are three major State-owned companies-Potevio New Energy Co, NARI Technology Development Co, and Beijing Huashang Sanyou New Energy Technology Co. Each company has its own focus area due to its location and history reason.
Currently, charging post constructors do not have a clear profit model, but rely heavily on government subsidies. The State-owned constructors bid for local government tenders, and the local governments have been eligible to receive 4,000 yuan ($630.4) for each post from the central government since last November, according to Chen.
There are also companies that are waiting and watching the development of the new charging facility national standard, as they believe there may be modifications or new standards in the future.
Charging posts now built are of varied types based on the national standard set in 2012, which isn't compulsory standard.
The majority of charging outlets and slots and the plugs of electric and hybrid cars, known as the charging interface, are similar to the European standard, but some have varied the communication protocols that enable data transfer between posts and cars.
Chen said: "The current posts could be replaced or modified later at an acceptable cost. However, if the communication protocol is set, those with incompatible posts might have to invest at extravagant cost to fit the standard.
"More capital will flow into the sector as soon as all the standards are finalized," he said. "Otherwise, and take Tesla as an example, a company might face the fate of scrapping billions of dollars worth of facilities."