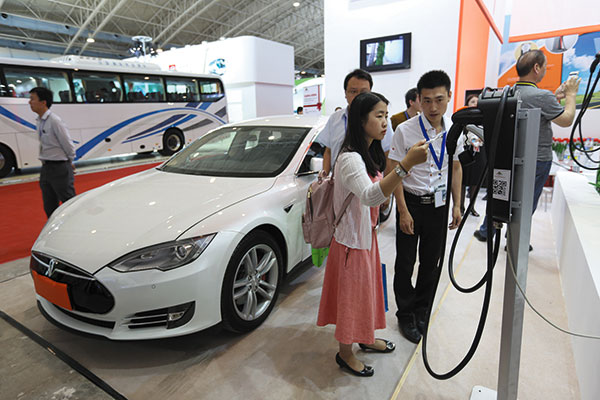 Visitors at a recent new-energy vehicle expo in Beijing examine charging posts. The city is suffering from a shortage of the facilities. [Photo/China Daily]
New properties being built in Shanghai are now required to include some electric car charging facilities. A similar regulation is waiting for approval in Guangzhou and Beijing is also drafting rules to promote construction of charging posts.
The Shanghai government requires more than 10 percent of parking spaces in new residential properties to offer charging facilities. Guangzhou and Beijing's rules are expected to require a minimum of 18 percent.
Beijing's rule is also likely to apply to new gas stations and highway service areas.
General Manager of Potevio New Energy Beijing LiuFeng said the main hurdle was the construction cost. He said: "A power distribution facility and supply line need to be built first, which costs at least 600,000 yuan ($98,360) or 700,000 yuan. So some public charging facilities' construction costs are as high as 2 million yuan."
The Ministry of Industry and Information Technology said 28,000 charging posts were built in China by the end of last year, 47 percent more than the amount in 2013.
However, the amount of charging posts is far from the targeted one-to-one ratio of charging post and new-energy vehicle. A total of 83,900 NEVs were produced in 2014, according to industrial data, meaning each charging post serves on average three NEVs.
A pure electric car owner in Beijing said there are no charging facilities offered where shelives so she uses those at a car dealer nearby.
China's NEV infrastructure construction sector used to be monopolized by the State Grid Corp of China. However, the country opened up the sector to accelerate the network's expansion and SGCC's monopoly ended in May 2014. More companies, including the new-energy arm of State-owned Potevio, and carmakers have now entered the sector.
Potevio has joined ride-sharing apps Yidao Yongche and Didi Kuaidi to build charging posts in major cities, including Beijing, Shanghai and Guangzhou, and plans to expand its network to 2,000 posts by the end of this year.
A charging post constructor said that to motivate people to install charging facilities the National Development and Reform Commission, the nation's top economic body, is researching the possibility of granting subsidies to charging facility builders.
From 2013, Shanghai has offered to pay constructors 30 percent of their total costs for charging facilities and operation projects.