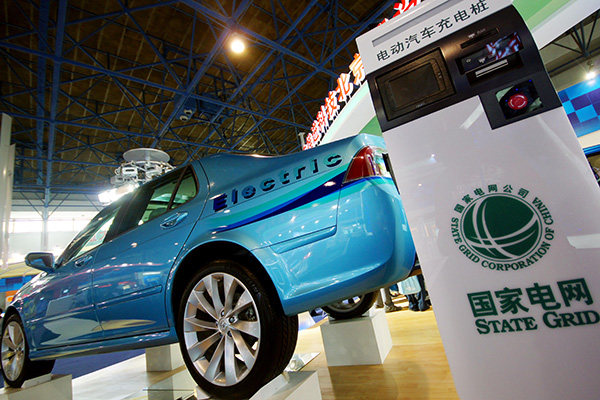 An electric vehicle recharging post, owned by the State Grid Corp, is displayed together with a BAIC electric car during a fair for new-energy vehicles in Beijing. [Photo provided to China Daily]
Editor's Note: The Communist Party of China Central Committee met last week in Beijing to set the course for the world's second-largest economy during the next five years. China Daily takes a look at the major economic progress achieved during the previous years and key focus areas in 13th Five-Year Plan (2016-20).
Technology will pave the way for surge in sales as companies invest in new line of eco-friendly models
Major Chinese auto firms will see a surge in sales during the next five years when they roll out a new generation of eco-friendly cars and buses with more efficient batteries.
The move into electric vehicles and hybrid models will boost growth in the industry as the government launches policies to stimulate the market.
"In the coming years, more efforts will be made to help domestic brands break through technological barriers in the field of battery-powered vehicles," Zhong Shi, a well-respected independent auto analyst, said.
"Today, most electric cars on sale fail to crack the 300-mile (270 kilometers) range of an average gasoline-fueled car. But that will change."
Already leading players in the industry are expanding their "green vehicle" programs.
Beijing Automotive Industry Holding Co Ltd plans to increase its investment in research and development, especially in battery technology.
The firm is also looking to build charging areas in petrol stations owned by China Petroleum & Chemical Corporation, or Sinopec, in Beijing.
As companies such as the BAIC Group look for cutting-edge solutions to ease polluted streets and highways in major cities, the government has worked out a raft of new proposals.
In September, the State Council released draft measures at an executive meeting hosted by Premier Li Keqiang. Included in the proposals was a scheme to scrap the license plate lottery for owners of new-energy cars.
Other key recommendations involved increasing support for companies doing R&D in battery technology, expanding the number of charging stations and moving to electric-run public transport buses.
"From the proposals by the State Council, we can see that some restrictions and obstacles for the purchase of new-energy cars and vehicles will be removed in the future," Dong Yang, executive vice-chairman and secretary-general of the China Association of Automobile Manufacturers, said without disclosing details.