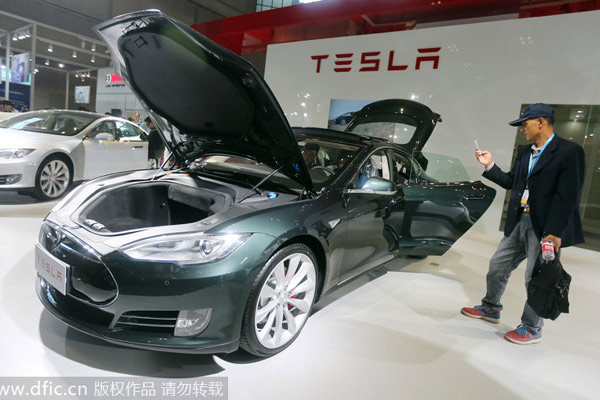 A visitor takes a photo of a Tesla Model S electric car during the China International Auto Products Expo in Shanghai, Oct 19, 2014. [Photo/IC]
New-energy vehicles were a highlight of the 2014 China International Auto Products Expo, according to a report released by the organizer.
Held from Oct 19 to 21 in Shanghai, the exhibition attracted more than 200,000 visitors, many of them keenly interested in exhibition of electric vehicles and smart driving technologies.
Market insiders said Chinese consumers are more critical than ever when choosing a car and are inclined to understand the parts and operating principles before choosing a family vehicle.
For electrics, consumers are not only interested in performance but also models that can be easily charged as well as details of the charging infrastructure, according to information from Tesla China, which displayed two car models and one chassis at the exhibition.
Tesla China has built 16 charging stations in seven cities and another 350 charging poles in 51 Chinese cities, according to company information.
The State Council identified new-energy vehicles as a strategic emerging industry in 2012 and approved a plan for the industry's development. It called for 500,000 battery-powered electric vehicles and plug-in hybrids on the road by 2015, and 5 million by 2020.
Government procurement will also give preference to new-energy vehicles.
For individual consumers, the driving experience is key to making a decision, said visitors to the show.
"The primary concerns in buying a new-energy vehicle are safety, price and how it feels to drive the car. An ideal new-energy car should give pleasant feelings and its performance should not be compromised," said Zhang Rongqing, a 36-year-old visitor.
Zhang said he has test driven some models in the past and felt they were like "toy cars in an amusement park", but the 2014 models "feel much better".
"Operations feel much smoother than before and the models are more reasonably priced," said Zhang.
As the sector develops, component suppliers and automakers face more challenges and opportunities, said Fu Minghao, an auto market analyst in Shanghai.
Bao Jie, president of China operations at MIRA Ltd, a vehicle-engineering consultancy, noted that electric cars have reached the stage they are viable vehicles and not just a concept.
Currently favorable policies and subsidies are major incentives for purchasing electric vehicles, but it will take more improvements in performance and design to win more consumers, said Bao.