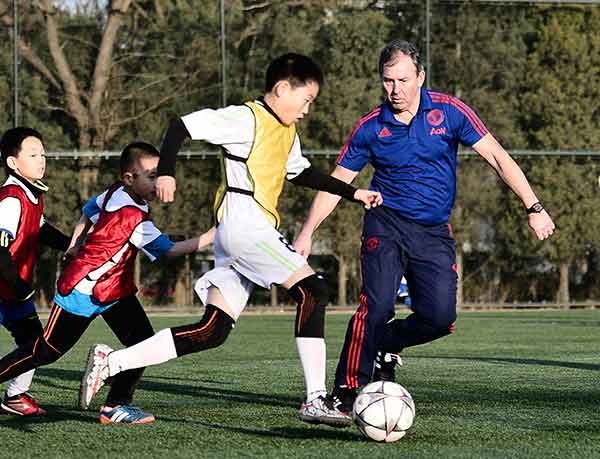 Former Manchester United player and England captain Bryan Robson coaches a young player in Beijing on Wednesday. They were part of a grassroots promotion for the China leg of the 2016 International Champions Cup. Wu Ao / for China Daily
As the lavish spending of Chinese soccer clubs on foreign players makes global headlines, insiders suggest the country should invest more in youth cultivation to catch up with the world's best.
To raise soccer's profile in the country, Chinese Super League clubs spent a staggering $373 million during the most recent transfer window to purchase star overseas players for the 2016 CSL season.
But signing big-name imports isn't enough, according to retired players and executives from some top European clubs. In the long run, China has to stand on its own and nurture more homegrown talent if it wants to become a global soccer power.
"Bringing in high-profile foreigners provides exposure and attracts interest" for club tournaments, said Sun Jihai, a former player for Manchester City, at the launch of the China leg of the 2016 International Champions Cup on Wednesday. "However, the game has to be played by China's own talent internationally, so putting emphasis on youth training matters more than buying stars at the moment."
A preseason exhibition tour, the ICC China, created by Relevent Sports and promoted by Le Sports in China, will see three top European clubs - Manchester United, Manchester City and Borussia Dortmund, the Bundesliga champion - face off in a round-robin format in Shanghai, Beijing and Shenzhen from July 22 to 28.
One year ago, the State Council, China's Cabinet, issued an ambitious reform plan aimed at transforming the country into a world soccer power through professional league development and youth promotion.
With wealthy investors such as major electronics retailer Suning and e-commerce giant Alibaba entering the soccer sector through club acquisitions, CSL clubs have become financially stronger to lure prime foreign stars such as Brazilian midfielder Alex Teixeira, who cost Jiangsu Suning a CSL record $55 million in transfer fees, to ply their trade in China.
The progress has impressed Jamie Reigle, commercial director of Manchester United.
"You see a fundamental change in the last 12 months in China in terms of the ambition," Reigle said at the ICC launch.
Still, Sun said, money can't buy the future unless it is used to establish more soccer academies at the grassroots level.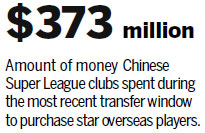 Sun said that his own junior soccer academy in Chongqing will begin admissions in June.
Karlheinz Riedle, former Dortmund and German national team player, agreed.
"They bring famous players to attract a lot of interest to the market. But to be fair, the most important thing for China is to develop the academies so that they can draft good local players generation after generation."
As a major goal highlighted in China's reform plans, the number of schools with mandatory soccer courses is to reach 50,000 by 2025, from more than 8,000 at present.
Inspired by President Xi Jinping's visit to Manchester's City Football Academy during his state visit to the UK in October, a series of China-UK soccer exchanges have been organized with Premier League trainers offering instruction for juniors as well as lectures for coaches in China.
Omar Berrada, the commercial director of Manchester City, envisioned closer ties between his club and China's youth movement.
"What we are trying to do is to help develop football at the grassroots level," Berrada said. "It's about long-term sustainable development that comes from the grassroots. We want to be part of it."