'Help Each Other' network links employers to more than 33,000 registered members
Yuan Yonghai worked as a hair stylist, a real estate agent and an auto supplies salesman before he found his calling in China's growing Witkey world where Web users purchase services and information.
Challenged by a bout of childhood polio that left one leg 4 cm shorter than the other, he spent a lot of time job hopping, struggling to find suitable long-term employment that accommodated his physical disability and paid a livable wage.
And in the back of his mind, he had dreams of entrepreneurship.
In 2011, it all came together for Yuan as he launched the "Help Each Other" network, which assists the disabled in finding jobs and employers in finding flexible workers. In four years, it has become the largest Web platform in China for helping the disabled find employment.
On the last day of 2015, it boasted 33,366 registered members, including 5,548 members with disability certificates from the China Disabled Person's Federation, which entitle them to free skills training the site provides.
The bangcn website has been a boon to Qiu Peiqing of Shanghai, who is unable to walk because of an injury, but ranks at the top of the website's income list. She majored in accounting at college and worked three months for a digital equipment company after graduation, but then had to quit because of her physical challenges.
After joining the "Help Each Other" network, she learned website editing and Internet promotion, and for the past three years, she has been making money, building her skills and confidence, and actively helping and guiding other people on the site.
Yuan is thrilled by such success stories.
"As a disabled person, I understand the bitterness that some in the group may have, especially those who have unbelievable employment difficulties, when compared to healthy people," Yuan said. "But if disabled people can earn money like others, they tend to greatly cherish their opportunities."
Yuan found it difficult to make a living after junior secondary school because of his disability. "Working as a door-to-door salesman, my legs hurt so terribly that I couldn't stand after long hours," he said.
His epiphany came when he found a job doing Internet promotion for an automotive talent website.
"I found that the network was amazing, as I could make money staying at home," he said. "It was very suitable for disabled people."
The first germ of an idea for Yuan's business came in 2008, when he was studying at The Open University of China. He taught a classmate who had cerebral palsy to do network marketing. One day, the classmate excitedly told him: "I also made money online!"
It was just a few yuan, but it was meaningful, Yuan said.
When Yuan finally launched the "Help Each Other" network, he underestimated the difficulty of starting a business. There were high startup costs, a monthly loan to repay and the site's operating expenses. But he persisted, and in 2014 the website started to prosper through promotion and good "word-of-mouth" publicity. The number of members rose sharply and support grew from the government and the disabled federation.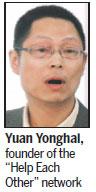 Jobs include network marketing, text sorting, copy writing, 3-D modeling and more.
"We only charge a fee to the enterprise," Yuan said. "Attracting people with disabilities on the Internet can significantly reduce labor costs for enterprises."
In the process of operating the network, Yuan has paid much attention to service quality. Free education and training is offered to workers via video and graphics tutorials, and there is remote voice training too. He wants the workers to acquire know-ledge and skills and put them into practice as quickly as possible.
"We require companies to treat us with equality, rather than to take special care of us, because only by truly catering to the market can it be possible to achieve permanent employment," he said.
Wang Hailai of Tonghua, Jilin province, has a neuromuscular disease and a primary school education, but she now earns a monthly income of up to 3,000 yuan ($462).
"I suffer from myasthenia gravis and don't have enough energy. I am so grateful for the 'Help Each Other' network and that I can earn money at home, so I will cherish this job," she said.