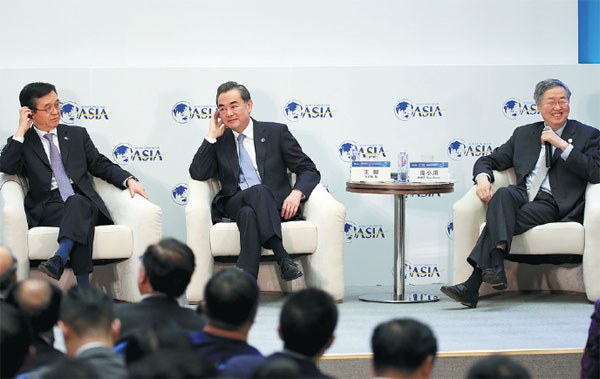 Foreign Minister Wang Yi (center), Minister of Commerce Gao Hucheng (left) and People's Bank of China Governor Zhou Xiao-chuan, attend a panel discussion at the Boao Forum for Asia Annual Conference in Boao, Hainan province, on March 24, 2016. [Photo by Zou Hong/China Daily]
China, which holds the G20 presidency this year, will lead the international forum's transition from a "talking shop" to a "doing shop", Foreign Minister Wang Yi said on Thursday.
The country and other G20 members would try their best to explore all possibilities of adding new growth dynamics, including boosting trade and investment, financial reform, and encouraging innovation, he said.
This year's G20 summit is scheduled to be held in Hangzhou, Zhejiang province, in September. A series of meetings leading up to the summit will also be held in various cities worldwide.
Speaking at a panel discussion at the Boao Forum for Asia Annual Conference, Wang said all counties have agreed that monetary easing and fiscal stimulus is not a long-term strategy. Instead, innovation and structural reform should be the "key to unleashing long-term growth potential".
He said China plans to use the Hangzhou summit to shift the G20 from a short-term crisis response mechanism to the pursuit of medium-and long-term agendas.
Zhou Xiaochuan, governor of the People's Bank of China, said the G20 summit will be a platform for financial leaders to discuss the situation of the world economy and macro-policy coordination. The agenda includes overhauling international financial architecture, monetary system reform, inclusive finance and green finance.
Responding to a question on the greater use of Special Drawing Rights, he said the agenda is not needed only by China, but all members.
The greater use of Special Drawing Rights - reserve currencies created by the International Monetary Fund for a "rainy day" - was included on the agenda after a G20 meeting in Shanghai in late February.
The inclusion of the renminbi in the SDR basket in November raised concerns that it was China that had pushed ahead with the agenda.
Zhou said: "The SDR was created in response to a crisis triggered by US dollar volatility. Members reached the consensus that greater use of SDRs is conductive to risk management and cutting volatility."