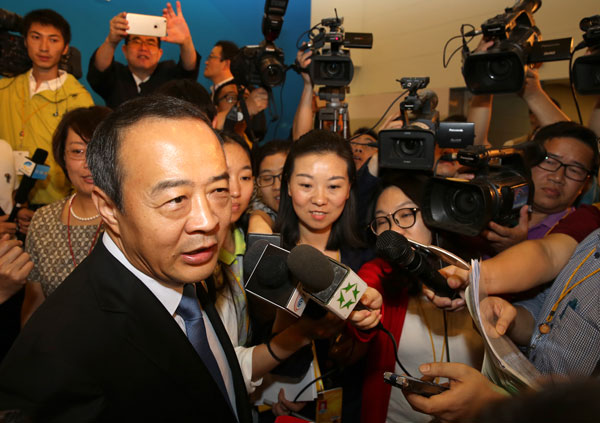 Mao Chaofeng, executive deputy governor of Hainan province, is interviewed after a news conference on the sidelines of the Boao Forum for Asia on March 23, 2016. [Photo by Huang Yiming/China Daily]
For the first time, people attending the Boao Forum for Asia have been able to take flights-either direct from overseas or via connecting cities on the mainland-to the coastal town of Boao on the east side of Hainan Island, instead of having to fly into Haikou or Sanya.
"This year's forum is a little bit different from previous years," said Mao Chaofeng, executive deputy governor of Hainan province, during a news conference on the sidelines of the forum on Wednesday. "Many participants of the forum and media representatives had the chance to take a direct flight to Boao Airport, which was still an area of waste ground this time last year."
Boao Airport, which began operations on March 17, not only makes it much easier for forum participants to access the resort town but also eases the way for many tourists who visit the area. The airport is designed to be able to accommodate 480,000 passengers and handle 1,440 metric tons of cargo annually by 2020.
The facility is part of Hainan's transportation upgrade and fits in with the tropical island's aspiration to grow into a global tourism destination by the end of the decade.
According to this year's Government Work Report for Hainan, in addition to the establishment of Boao Airport, the province plans to expand existing airports at Haikou and Sanya this year and build another airport in Danzhou within the next three years.
Hainan's 13th Five-Year Plan (2016-20) says the province is expecting to see more than 80 million tourists a year by 2020, with 1.2 million of those coming from overseas. Total tourism revenue is expected to pass 100 billion yuan ($15.2 billion) by then, and better connectivity is seen as a key component of the expansion in tourism.
"In 2015, we had 19 airlines connecting to 11 countries. This year, we will keep up our efforts and do our best to connect to all major source countries of Hainan's inbound tourism," said Sun Ying, head of the Hainan Provincial Tourism Development Commission. "For those countries already connected by air travel, we will add more flights."
In recent years, Hainan has lost ground in the face of fierce competition from resorts in Thailand, Indonesia and Malaysia, where tourism facilities and services were more mature.
"Hainan is as good as or even better than surrounding islands when talking about scenery and the ecosystem," Sun said.
However, the province needs to increase direct flights to other countries and further promote the visa-free policies to boost its tourism development, she said.