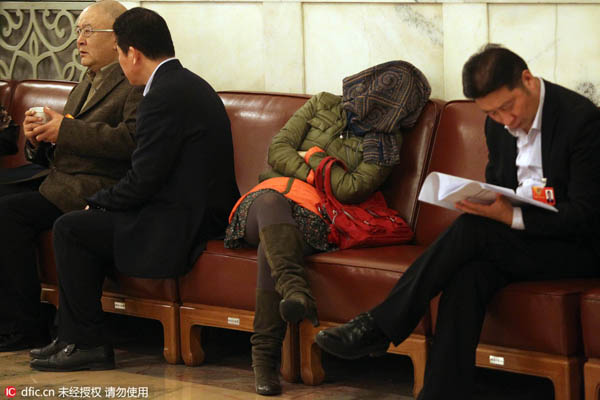 A reporter snoozes in the rest area in Great Hall of the People during this year's two sessions. [Photo/IC]
Media professionals get least hours of sleep, and more than one third urban residents suffer from insomnia, a new survey shows.
The study initiated by bedding brand De Rucci and supported by China Sleep Research Society shows that sleeplessness has become an epidemic among middle-class people, with 47 percent of respondents having experienced insomnia. The figure stands at 38 percent among the entire urban population.
Among all occupations, media workers are ranked bottom of the list for the second year, following those working in IT industry, medical workers, and corporate executives. Government employees top the list.
According to a similar report published in 2015, nearly two thirds of respondents cited growing pressure as the reason for sleeplessness.
Sleeplessness is also a major factor for road accident.
Lack of sleep is blamed for eighty percent of road accidents, the CSRC said on Sunday, a day before the World Sleep Day. It said driving without sleep for 17 hours is as dangerous as drunk driving.
To keep healthy, the CSRC suggests people sleep for no less than seven hours a day, and doing exercise, reading books and bathing feet in hot water are considered helpful for sleeping.