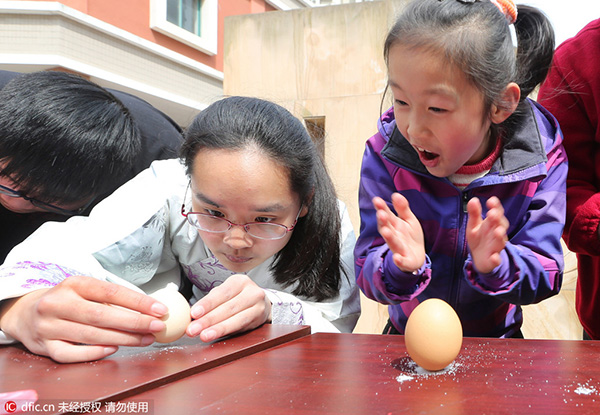 Students from Nantong Open University wearing Han Dynasty outfits make an egg stand upright in Chongchuan district, Nantong city, Jiangsu province, March 20, 2016. [Photo/IC]
An activity celebrating the coming of spring is jointly held by Nantong Open University and local community. Students introduce traditions to residents during Spring Equinox.
Making an egg stand upright is a popular game across the country during the Spring Equinox. It is an old custom that dates back to 4,000 years. It is believed that if someone can make the egg stand, he will have good luck in the future.
Some believe that the Spring Equinox is the best time to practice this game because on this day the axis of the earth is relatively balanced against the orbital plane of the earth's rotation around the sun, which makes it easier to make the egg stand.