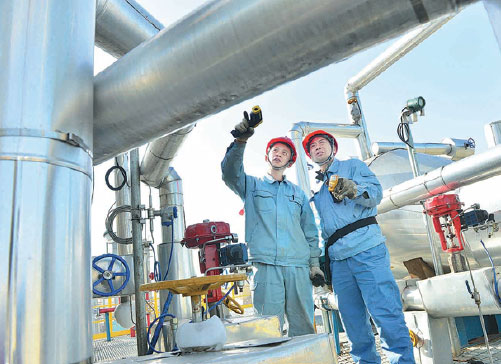 Technicians inspect a CO2 recycling project at a petrochemical plant belonging to Sinopec Group in Puyang, Henan province. Tong Jia / For China Daily
A mix of strong environmental protection efforts across the country over the past five years has helped China reduce air and water pollution below the country's targeted goals.
The emissions of four major air and water pollutants was reduced by between 3 percent and 10.9 percent year-on-year in 2015, the Ministry of Environmental Protection announced on Tuesday.
Additionally, more than 1.26 million vehicles registered before 2005 were forced off the roads because of excessive exhaust emissions, about 100,000 more than the target.
The ministry credited the improvements to a strengthened mix of efforts, from stricter laws and stronger enforcement to a changed economic structure that relies less on heavily polluting industries for growth.
Revised laws on environmental protection and airborne pollution prevention have granted the environmental authority stronger powers to regulate the behavior of polluting companies and local governments, it said in a statement.
Last year, the ministry fined polluters 485 million yuan ($74 million), employing a new type of financial penalty that provides a daily base without limits, one of the stronger tools granted by the revised environmental protection law, the ministry said.
Local governments also have faced tougher punishments in cases where they did not appropriately protect the environment.
The ministry has urged leaders from 16 cities to improve their efforts to reduce pollution, and four cities, including Qinhuangdao in Hebei province, have had their ability to launch projects restricted because of poor performance in environmental protection.
"We will continue to push forward the mix of efforts to reach the goals of environmental improvement by 2020 ... including fewer smoggy days," said Chen Jining, minister of environmental protection, adding that the ministry will adopt stricter controls for water, air and soil pollution.