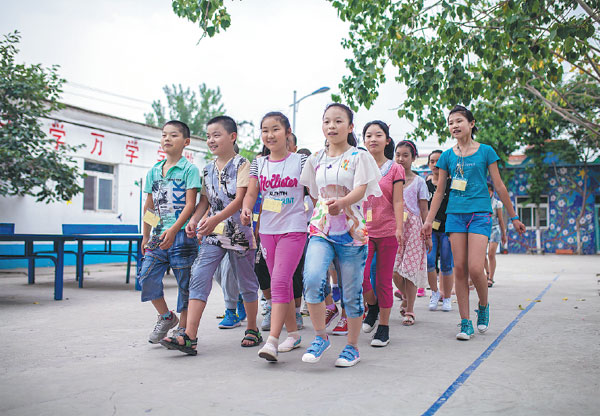 Students attend military training at Beijing's Dandelion School, a nonprofit institute for the children of migrant workers, in July. Zheng Liang / For China Daily
Population-control measures mean some big cities are making it increasingly difficult for the children of their least-privileged residents to enroll in the public school system, resulting in an exodus of students. Wang Xiaodong and Zhao Xinying report.
A long with Beijing's other primary and middle schools, the Dandelion School opened for a new semester on Tuesday. However, only 520 of the 549 registered students, all from migrant worker families, returned following the Spring Festival holiday, teacher Zhao Kai said.
"We learned that 23 students had transferred to other schools, mostly back in their hometowns, but the other six, mostly seventh-graders, did not return," Zhao said.
Founded in 2005, the school, which teaches grades seven through nine, is one of the few nonprofit educational establishments in the capital intended for the children of low-income migrant workers.
Zhao said it's becoming increasingly difficult for the students to enroll in Beijing's public high schools, which has resulted in some parents transferring their children to other areas before the end of their three years at the middle school in Daxing district.
Although the school always loses a few students at this time of year, Principal Zheng Hong fears that the number may decline further as conditions deteriorate in similar schools founded to educate children from poor migrant families.
"Years ago, some of our students could enroll in local high schools, but now it's becoming difficult for them to even gain admittance to Beijing's vocational schools," she said. "Last year, most of our graduates had to attend high schools in neighboring Beijing, such as Gu'an, Langfang and Yanjiao in Hebei province. For our graduates, the path to education is becoming narrower and narrower," she said. "Policies on schools such as ours are becoming tighter, and they keeping changing."
Qin Jijie, principal of Beijing Zhiquan School, also for migrant children, said the municipal government's policy of encouraging migrant workers to live in areas outside Beijing has had a big impact.
"In recent years, the number of schools like ours in Beijing has declined as student numbers have fallen," Qin said. "Inevitably, many of them will disappear."