Xi urges strict adherence to Party rules and says more citizens will see benefits of campaign this year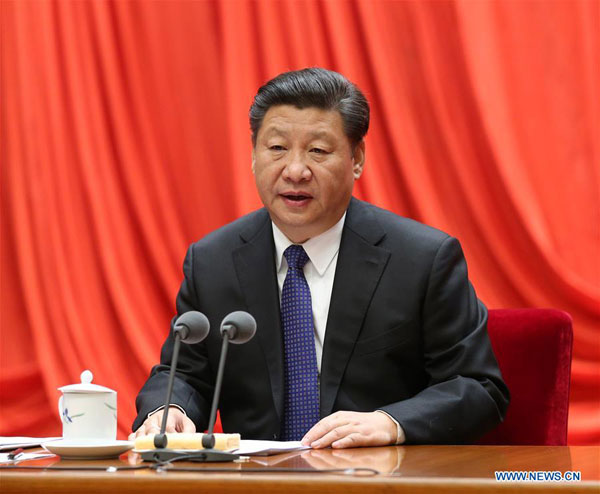 Chinese President Xi Jinping, also general secretary of the Communist Party of China (CPC) Central Committee and chairman of the Central Military Commission, addresses the 6th plenary session of the 18th CPC Central Commission for Discipline Inspection (CCDI) in Beijing, Jan 12, 2016. [Photo/Xinhua]
China will not relax its anti-graft effort this year, President Xi Jinping has declared, and the campaign will lead to the grassroots level after rooting out corrupt high-ranking figures in the central government.
In a keynote speech signaling what researchers called "a turning point" in political development, Xi expressed confidence in the anti-graft campaign's success and its benefits for all citizens.
Speaking at a conference on Tuesday of the country's top graft-buster, the Communist Party of China's Central Commission for Discipline Inspection, Xi said that in 2016, China will see more citizens sharing in the victories of the anti-graft campaign.
He urged the CCDI to be more focused on fighting corruption at the government's grassroots levels, and on any in just law enforcement processes, in order to gather greater support from citizens.
Xi also pledged to continue the effort to hunt for officials suspected of corruption who have gone into hiding abroad.
"The public's sentiments are the greatest politics and the strongest support for justice," he said.
The president also called for strictly adhering to the internal rules of the Party, upholding the nation's fine cultural values and replacing informal office customs with open and straightforward rules. He emphasized that officials must set an example in managing their familial relations.
The commission conference has "released a strong signal that China will be unrelenting in its anti-corruption effort," said Hong Daode, a law professor from China University of Political Science and Law.
The conference, to be held from Tuesday to Thursday in Beijing, "will have a profound influence on Chinese politics, especially in the building of ideas and in the institution and practice of clean government," said Gao Bo, a research fellow at the Chinese Academy of Social Sciences.
Since Xi and his team were elected as the central leadership team of the Party in November 2012, a sweeping anti-graft campaign has been a national priority.
To date, about 130 high-ranking officials have been placed under investigation for serious violations of discipline, including Zhou Yongkang, the former security chief who was sentenced to life in prison in June, and Ling Jihua, former head of the United Front Work Department of the CPC Central Committee, who was put under investigation in July on suspicion of bribery.
Two former high-ranking military officers, Xu Caihou and Guo Boxiong, also were accused of corruption.
Last year alone, 26 high-ranking "tigers" were investigated for "serious violations of discipline."
In the overseas hunt for corruption suspects, commission figures show that, since April when the eight-month-long "Skynet" campaign began, law enforcement officers have brought back more than 1,000 economic fugitives, mostly corrupt officials, to stand trial. They were returned from 68 countries and regions, including the United States, Canada, Australia and New Zealand.
According to the anti-graft watchdog, a new round of Skynet will be launched this year to target corruption suspects overseas, through judicial cooperation with other countries.