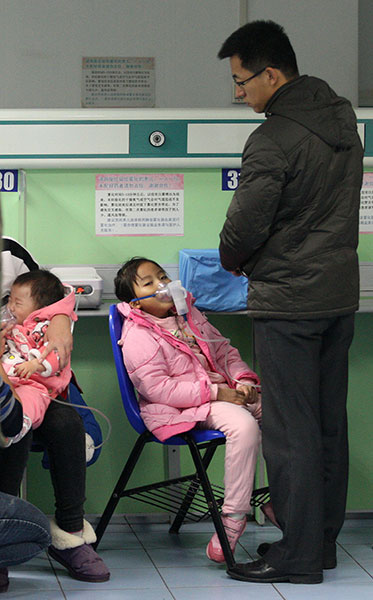 An increasing number of children suffering from respiratory illness receive treatment in hospitals in the city this winter. FENG YONGBIN/CHINA DAILY
The municipal environmental watchdog sent inspection teams to supervise measures to restrict emissions on Tuesday. Of 545 companies they inspected, 12 had violated orange alert restrictions, the capital's environmental protection bureau said.
For example, a Dongfeng Nissan factory failed to suspend work on Tuesday. And a construction site at the China University of Political Science and Law left piles of building materials uncovered which could release dust into the air.
All companies and construction sites violating the regulations would be severely punished, the bureau said.
The smog covering a vast area across northern China has been caused by unfavorable weather, with no wind and high humidity, and an increased consumption of coal in the heating season, the Ministry of Environmental Protection said.
Humor provides light relief from heavy smog
Some of the Chinese capital's 22.5 million residents have turned to humor to cope with persistent toxic air that once again soared above hazardous levels on Tuesday.
A joke circulating among Chinese journalists told of a reporter approaching an old woman on the street to ask about the impact of the smog. "The impact is huge," the woman replies. "First of all, I'm your uncle."
Some users of social media traced the shapes of famous Beijing landmarks on photographs in which the buildings were nearly obscured by the smog and posted them online.
One said living in Beijing was like working on the crew of a zombie apocalypse movie.
"As a friend finished eating lunch, he slapped on his face mask and said he had to return to the set. They were filming Resident Evil in the afternoon," one micro-blogger joked, invoking the horror film.
Another online joke said a Beijing radio broadcaster received a call from a member of the audience who was worried about his traffic violations. "I cannot see the red light until it's too late," he cried, saying he had run through eight lights.
"Don't worry," the broadcaster said. "The heavy smog has also protected you from the traffic cameras."