An inexpensive drug crucial in curing infant spasms is not provided by most hospitals in China, but is sold on the black market at prices hundreds of times what it is worth, according to Xinhua News Agency.
The drug, adrenocorticotropic hormone, normally sells for about 7.8 yuan ($1.20) a box, but some parents pay more than 4,000 yuan to scalpers for a box for their babies, it said.
A mother, surnamed Zhou, said her 8-month-old child suffered spasms and was receiving treatment in a hospital in Hangzhou, Zhejiang province. The doctor said injecting ACTH is the most effective treatment, but it is unavailable at the hospital, according to the report.
The message was forwarded on Weibo by many doctors in China but all of them said the drug is unavailable in their hospitals.
In the end, Zhou was informed that a pharmaceutical company in Shanghai has the drug in stock and she got two boxes from the company.
However, many other patients were not so lucky and had to resort to scalpers.
Zhou Zhongshu, director of the pediatrics department at the China-Japan Friendship Hospital in Beijing, said ACTH has been unavailable in the hospital for a long time.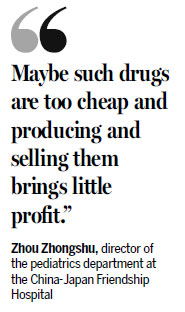 "An infant suffering spasms should receive an injection of the drug first, and then receive some other medicines," she said.
"Many other cheap and convenient drugs have been unavailable in many hospitals in recent years," Zhou said.
"Maybe such drugs are too cheap and producing and selling them brings little profit," she said.
An employee of Shanghai No 1 Biochemical and Pharmaceutical said that the company is the only one on the Chinese mainland that still produces ACTH.
"We have about 50,000 boxes of the drug in stock and this can meet market demand, but there are not enough customers," said the employee, who wished to remain anonymous.
As a general practice, public hospitals in China sell drugs at a 15 percent markup. The practice is expected to be stopped in all major county-level hospitals in China by the end of the year, according to a State Council guideline.
Profiting from the sale of drugs has become a major source of revenue for many public hospitals, but this has also encouraged doctors to prescribe more expensive and excessive drugs, analysts said.