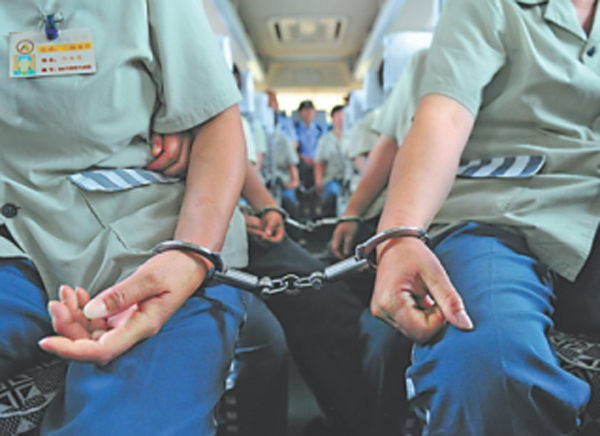 Criminal justice: Felons convicted of serious corruption would be prohibited from seeking shorter sentences, under a third reading of the draft amendment to the Criminal Law. The amendment aims to "safeguard judicial fairness". China Daily
China is considering stricter legislation to block felons convicted of corruption from seeking to shorten their sentences as part of its nationwide campaign to build a clean government.
The top legislature is also scheduled to discuss repealing the charge of soliciting underage prostitutes and redefining it as rape, which is regarded as a more serious crime.
The Standing Committee of the National People's Congress began the third reading of the draft of the ninth amendment to the Criminal Law at its bimonthly session, running from Monday to Saturday.
Under the amendment, those who are convicted of serious corruption offenses and have been given two-year suspended death sentences will not be allowed to apply for a shorter sentence if the death penalty is reprieved. According to the draft, they will always serve life imprisonment.
The amendment aims to "safeguard judicial fairness" and prevent "the most corrupt criminals serving shorter prison terms through commutation", Qiao Xiaoyang, head of the NPC's Legal Affairs Committee said in a report.
Qiao said the amendment was proposed to the NPC after soliciting public opinion on the draft, which was made public in November.
"The committee received suggestions of life imprisonment for those convicted of serious corruption offenses from a number of NPC deputies as well as some government organizations," he said.
The draft is likely to be adopted on Saturday after a vote by NPC Standing Committee members if customary procedures are followed.
Yu Zhigang, a law professor at China University of Political Science and Law, said under current law, those who are convicted of serious corruption charges could face capital punishment.
The ruling on no commutation means they will face life imprisonment regardless of their behavior while in prison.
Under the current Criminal Law, people who pay to have sex with prostitutes younger than 14 years old face a maximum of 15 years in prison, while those convicted of raping a child may face the death sentence. The law considers only girls can be classified as prostitutes.
The draft amendment is likely to close a loophole that allowed offenders to get away with relatively light sentences after having sex with girls under the age of 14. The change comes amid public outrage over recent offenders.
A proposed amendment calls for deleting the charge of "prostitution with underage girls". If it is approved, any sex with girls under 14 would be considered rape and subject to harsher penalties up to the death sentence.