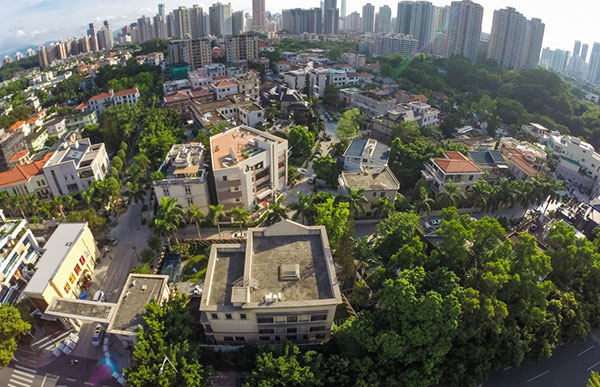 Aerial photo taken on July 18, 2015 shows Wang Lin's villa in Shenzhen.[Photo/IC]
NANCHANG - Police in East China's Jiangxi province formally arrested self-proclaimed qigong master Wang Lin Thursday for his alleged role in an "illegal detention" case.
The victim, a company president Zou Yong, was kidnapped on July 9 and murdered. Police detained four suspects, including Wang.
Wang and another suspect were arrested on the charge of illegal detention, while the other two were charged with intentional homicide, according to the public security bureau of Pingxiang City.
Wang, who claims to be a master of qigong, a traditional martial art combined with meditation, came to public attention in 2013 when images of his supposed "supernatural powers" were posted on the Internet. These "powers" include conjuring snakes from thin air and posing for pictures with celebrities.
Zou was introduced to Wang in 2002. In a TV interview in 2013, Zou said he had paid 5 million yuan ($804,000) in 2009 to become a disciple of Wang, who asked for nearly 30 million yuan from him thereafter.
Wang has been previously investigated for possession of a gun, unlicensed medical practice, bribery and fraud. Local police and health authorities launched an investigation in 2013 but failed to make any headway due to lack of evidence.
Police are further investigating the latest case.
Wang's background:
Wang has been in the public spotlight recently because of the many published photos of him hobnobbing with celebrities. His claim of "supernatural powers" has raised doubts among the public.
Wang had close relation-ships with many famous and powerful people, including actor Jackie Chan, Alibaba Group founder Jack Ma and several high-level officials. Photos of Wang posing with Chan and Ma spread widely on the Internet.
Other celebrities such as actor Jet Li and actress Zhao Wei were also guests of Wang according to photos he has shown. Even top officials including Liu Zhijun, the dismissed minister of railway visited Wang and former health minister Chen Minzhang was shown receiving treatment by Wang.
Wang claimed he has treated more than 50,000 patients. But the health bureau of Luxi county said Wang was not qualified in medicine and has no license.
Wang is among the richest people in Luxi county and one of his villas covers more than 6,600 square meters with a man-made lake.
Wang boasts the legend of his treatment in his book published in Hong Kong. One example is once he cured a master with liver cancer in Qianyan Temple in Shenyang, Liaoning province, but reporters claim they found there was no such temple in Shenyang and the master allegedly did not exist.
There are some other similar cases. Wang reportedly cured a mail officer named Chen Zhaocai in Nanzuo town, Xingguo county, Jiangxi province according to the book. But it appears there is no Nanzuo town in the county.