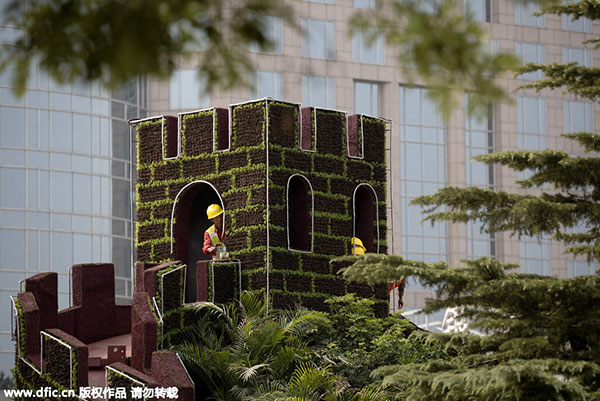 A worker applies glue on a floral replica of the Great Wall at the sidewalks along Tian'anmen Square in Beijing Tuesday, Aug 17, 2015. Parts of Tiananmen Square and the surrounding area have been closed for preparations for a large military parade on Sept 3, to mark the 70th anniversary of the end of World War II. [Photo/IC]
BEIJING - Parterre in the shape of the Great Wall will adorn the sidewalks along Tian'anmen Square, the site of a military parade that will be attended by Chinese and foreign troops next month.
Flowers are an important part of decorations for National Day, which falls on Oct 1, and those in Tian'anmen Square are often major tourist attractions.
This year, however, the displays will be installed ahead of National Day to mark the 70th anniversary of the end of World War II.
According to Beijing Municipal Bureau of Landscape and Forestry (BMBLF) on Tuesday, the Great Wall is symbolic of the Chinese people's courage to defend their country, while also befitting of the commemorative event.
"They will showcase China's spectacular manmade wonders," said Wu Zhiyong, BMBLF publicity office head.
Apart from two floral Great Walls, eight more parterres designed around the theme of WWII and the daily lives of Chinese will be set up along Chang'an Avenue, a major thoroughfare in Beijing.
The parterres will not be as tall as those of previous years, due to safety concerns and frugality considerations, said Wu.
"Frugality is a principle we must follow," he said, adding that the aesthetic will not be compromised.
"Limiting the height of the parterres will ensure spectators have a clear view of the parade," he noted.
Wu said the decorations are currently under construction, and 3D printing is being used to make accurate molds.
China has a series of events planned in the run-up to the 70th anniversary of the end of WWII, culminating in a military parade on Sept. 3 in Beijing.
The parterre will remain on show for a month following the parade, and then they will undergo some minor alterations to be used as National Day decorations.