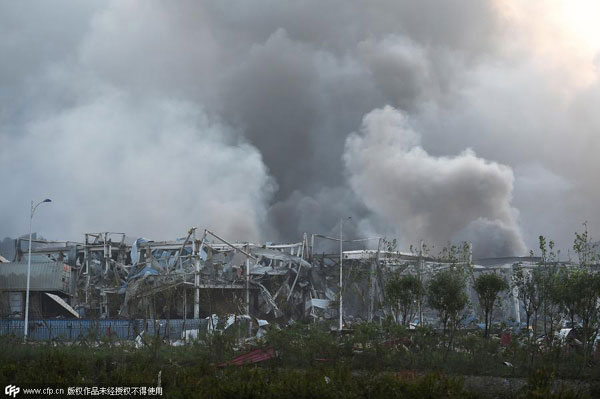 Smoke billows from the site of an explosion in Tianjin, August 13, 2015. [Photo/CFP]
Chinese Premier Li Keqiang said Sunday if any illegal acts are proved to have been involved in the deadly warehouse explosions in Tianjian, including dereliction of duty, they will be fully investigated to give the victims and people all over the country clear answers.
He said the results of all investigations shall be open to the public.
The Supreme People's Procuratorate (SPP) announced on Sunday it has begun to investigate whether there is any dereliction of duty involved in Wednesday night's warehouse explosions in north China's Tianjin city.
As of Sunday, no officials nor the company handling the warehouse of Ruihai International Logistics Co. Ltd, has been held accountable for the explosions, but the SPP will look into possible illegal acts, such as abuse of power or dereliction of duty and deal with those acts which may constitute crimes.
A total of 112 bodies have been found, and 95 people remain missing, including 85 firefighters in the explosions, officials said at a press conference on Sunday.
Chinese Premier Li Keqiang arrived at the site of Tianjin blasts on Sunday afternoon. He visit firefighters, rescuers and those injured in the calamity, as well as gave instructions on rescue operations, treatment of the injured and handling of the aftermath and production safety.
Ten more bodies were found on Saturday after the announcement of 104 deaths, according to Gong Jiansheng, deputy head of the city's publicity department. Twenty-four victims have been identified, Gong said.
The missing firefighters included 13 in active service, and 72 working for the Tianjin Port Group Co., he added.
Two huge explosions took place in a warehouse for hazardous chemicals at about 11:30 p.m. Wednesday following a fire.