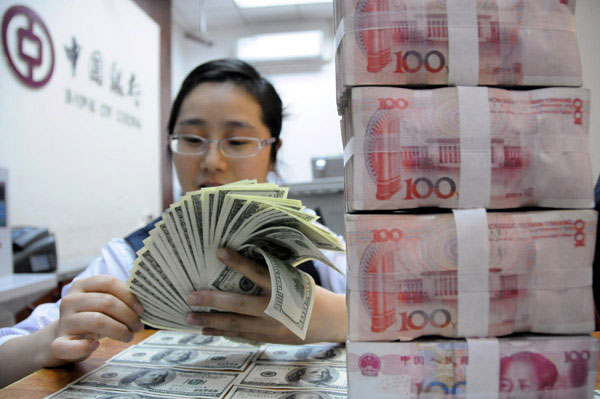 A clerk counts currency at a Bank of China Ltd branch in Nanchong, Sichuan province. [Photo/Xinhua]
BEIJING - China is very likely to realize its goal of annual economic growth of around 7 percent, a central bank economist said on Saturday.
Remarks of economist Ma Jun with the People's Bank of China came as the International Monetary Fund (IMF) predicted a 6.8-percent growth this year in its annual Article IV Consultation Staff Report for China.
The IMF forecast was a bit cautious, said Ma, adding that China's economy is holding steady and its GDP growth in the second half of the year will outperform the first half with annual growth around 7 percent very likely.
Active fiscal policies and other pro-growth measures will have a positive effect in H2. The rising home sales and prices will boost property investment and local governments' debt-swap programs have solved some finance problems for infrastructure, Ma said.
China's Ministry of Finance has given local governments 2 trillion yuan ($313 billion) of quota to replace existing debts with new bonds since the middle of May this year, the Shanghai Securities News reported Tuesday citing a central bank official.
The world's second-largest economy posted 7-percent growth year on year in the second quarter of 2015, unchanged from the first quarter and the lowest quarterly growth rate since 2009.
But as the effects of the country's expansionary fiscal policy and monetary easing spread, growth is expected to tick up in the third or fourth quarter.
In addition to four interest rate cuts since November, China has decided to remove its 75-percent loan-to-deposit ratio requirement to give banks more freedom to lend.
The government has also accelerated fiscal spending with the approval of a package of major infrastructure projects and an ambitious plan to speed up improvement of run-down urban areas.