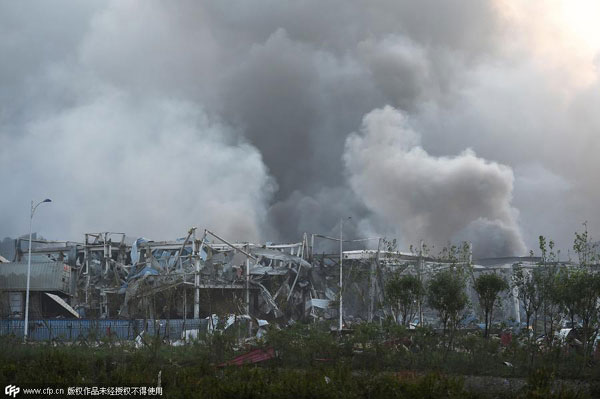 Smoke billows from the site of an explosion in Tianjin, August 13, 2015. [Photo/CFP]
A senior Beijing official said the Chinese capital will suspend the production of toxic and explosive chemicals from next week, after the massive blasts ripping through a chemical warehouse that killed at least 56 people in neighboring city Tianjin.
Companies producing such volatile chemicals were ordered to stop their business until Sept 6, during which Beijing will host the World Athletic Championships and a military parade marking the end of World War II, according to Deputy Mayor Zhang Tingkun.
This announcement was made as part of a nationwide inspection of dangerous chemicals and explosives.
The State Council, China's cabinet, said on Friday that it would crack down on illegal activities to strengthen industry safety in a statement posted on its website.
Read more: Questions, doubts loom over deadly Tianjin warehouse blasts

China must learn a profound lesson from the blasts in Tianjin, the notice said.
The capital will conduct a more comprehensive inspection of the security of the production and storage of dangerous chemicals. Companies failing to meet the standard will be shut down immediately.
"No storage of dangerous chemicals is allowed inside the Third Ring Road of Beijing. The inspection will focus on the suburban districts of Fangshan, Tongzhou and Daxing," said Liu Li, an official from the Beijing Administration of Work Safety.
Other security measures for the same period include barring gas stations from selling gas in canisters and the suspension of fireworks sales.

Facts you need to know about deadly blasts in Tianjin