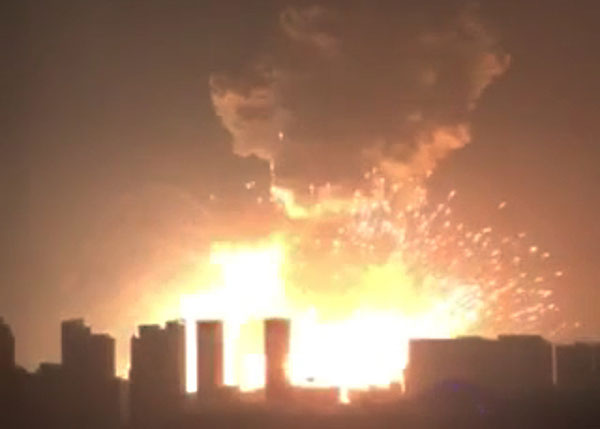 An explosion rocks the Binhai New Area in north China's Tianjin Municipality at around 11:30 pm Wednesday. [Photo/IC]
Huge explosions hit an industrial area in northern Chinese port city of Tianjin late on Wednesday, triggering a blast wave felt kilometres away and injuring scores of people.
Seventeen people have been confirmed dead, 32 are in critical condition, at least another 400 injured as of 6:30 am Thursday after an explosion ripped through a warehouse in Tianjin City, according to police authority.
Two firefighters were "out of contact", police said.
Chinese President Xi Jinping and Premier Li Keqiang have urged all-out efforts to save the injured and minimize casualties in the Tianjin blast.
According to the Sina Weibo post of the firefighting bureau under the Ministry of Public Security, The Tianjin firebrigade sent 12 teams after receiving fire report from Ruihai warehouse at the Binhai New Area at 10:50 p.m. Wednesday, which stores dangerous and chemical goods. An explosion occurred at the site at 11:30 p.m. The brigade then sent another nine teams and 35 fire engines as reinforcement.
The shockwaves were felt kilometers away, with some residents claiming their window glass and fish tanks shattered. People in neighborhoods nearby said flames lit up the sky and the blasts with big bang sent smoke and dust dozens of meters into the sky.
Lu Yun, head of the nearby Taida Hospital, said they have received more than 50 wounded people, and more are coming. The injuries were mainly from broken glass or stones. Some of the injuries are serious.
The rescue operation is still going on.
CCTV reported that blasts had erupted in a shipment of explosives at around 11.30 pm local time.
Video footage showed flames lighting up the night sky and Xinhua news agency quoted residents in nearby districts as saying the blast had shattered windows.
The agency said the explosion had ripped through a warehouse storing "dangerous goods".
Central Television said on its website  there had been two explosions within 30 seconds of each other and that about 100 fire trucks had been sent to the scene. Xinhua said fireballs from an initial blast had ignited further explosions in premises nearby.