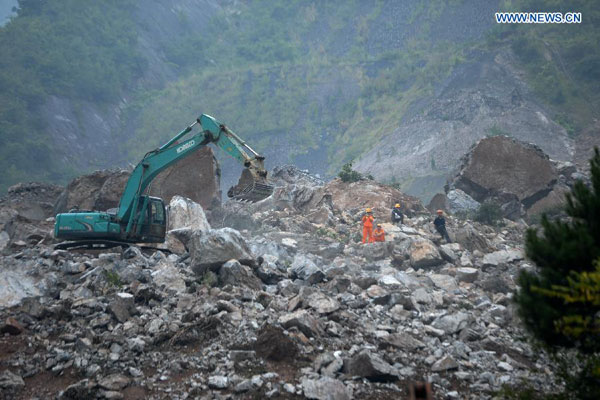 Rescuers clean the landslide site in Shanyang County, northwest China's Shaanxi province, Aug 12, 2015.[Photo/Xinhua]
XI'AN --Rescuers have dug out four people but more than 60 remain missing after a landslide buried the living quarters of a mining company in Shaanxi Province, northwest China, early Wednesday.
All four have been admitted to hospital and in stable conditions.
More than 1.3 million cubic meters of earth buried 15 dorms and three houses at around 12:30 a.m. on Wednesday at Wuzhou Mining Co. in the mountainous county of Shanyang. Earlier reports put the number missing at 40.
Ten people managed to escape by themselves.
Zhou Kunlin, one of the 10, said:"I woken up by people shouting about the danger."
Zhou said he and several colleagues ran out of the dorm and up the mountain. They were lucky to escape with just minor injuries from the falling stones.
"Those who ran down the mountain were buried by the landslide," he said.
"Many just had no time, as the landslide buried the area in mere minutes," he added.