A former senior executive at several major State-owned enterprises was sent to prison for 18 years on Tuesday after he was convicted of embezzling public funds and accepting bribes.
Shanghai No 2 Intermediate People's Court found that Wang Zongnan embezzled 195 million yuan ($30.83 million) and took bribes of 2.69 million yuan between 2001 and 2006.
He served as general manager of Shanghai Friendship Group and as chairman of Shanghai Lianhua Supermarket Holdings Co during that time.
He was also president of Bailian Group, a major retailing business, and was later chairman of Bright Food Group Co Ltd, one of the country's largest food producers.
Wang, born in 1955, was arrested in July last year on suspicion of embezzlement and bribery.
The court found that between 2001 and 2006, Wang used his position to embezzle 195 million yuan together with other executives in management, finance and human resources to invest in real estate and for the registration and capital verification of two companies.
Wang obtained an illegal income of more than 1.2 million yuan from the embezzlement, according to the verdict.
The other executives involved in the embezzlement have all been sentenced in separate cases.
Wang also asked to buy two villas for his parents at less than half the market price from a subsidiary of Fosun Group. Wang had performed a favor for the company, the court heard.
In 2003, his parents bought the two villas in Songjiang district for a total of 2.08 million yuan. They were later sold for 14.8 million yuan - one in 2010 and the other in 2013.
An anti-corruption expert told China Daily that some heads of State-owned companies might think it reasonable to consider the business as their family business.
They would not make a clear distinction between the public and private interest, especially when they believed they had made a considerable contribution to the company or saved it from failing.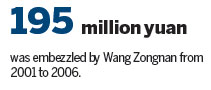 Supervision currently comes from both within an enterprise, such as workers' assemblies, and outside a company, such as disciplinary inspection commissions and the State-owned Assets Supervision and Administration Commission of the State Council.
But internal supervision has few functions, while supervision from outside appears to be weak, said Yi Shenghua, a lawyer in Beijing specializing in corruption cases.
"It's understandable that State-owned enterprises are not monitored as closely as the government sector because they need sufficient independent power to operate. But that doesn't mean they can be overlooked," he said.
The State-owned Assets Supervision and Administration Commission said at the end of last year that its priority this year is to combat corruption.
Crackdowns will be launched against "problematic situations", such as executives traveling abroad on public funds and who have relatives engaging in business illegally.
zhouwenting@chinadaily.com.cn