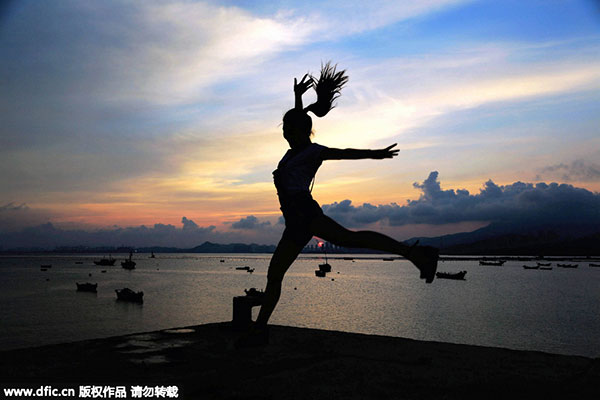 A tourist jumps as sun sets in the background in Qingdao, Shandong province, August 10, 2015. [Photo/IC]
The Chinese government is encouraging people to work 4.5 days a week in a bid to bolster tourism amid the flagging economy.
In summer, if conditions permit, more flexibility should be given to employees to help them take vacations using Friday afternoons, Saturdays and Sundays, according to a document published Tuesday by the General Office of the State Council. The document, titled Several Decisions on Further Promoting Tourism-related Investment and Consumption, is dated August 4.
The document also said China will build more tourism infrastructure, including cruise ports and RV parks. Cruise ship tourism should be encouraged and 10 ports for cruise vessels will be built by 2020.
"Boosting investment and consumption for tourism is of great importance to improving quality of life and developing modern services," noted the document.
Great efforts should be made to improve tourism facilities, and 57,000 clean toilets at tourist attractions will be built or renovated within three years, it said, adding the toilets will be well-maintained and free of charge.
Private capital is encouraged to partner with government funding in building 1,000 parks for RV tourists and other independent travelers by 2020, and all important tourist attractions and tourist cities should be staffed with professionals to provide tourism information by 2020, it added.
These measures can help employees use their vacation time for travel more flexibly, while also tapping the full potential of tourism consumption, said Wu Wenxue, deputy head of the China National Tourism Administration.
The news caused a stir among netizens. The hashtag #short vocation including Friday afternoon and weekends# became a hot topic on Sina Weibo, a Twitter-like social networking site in China. The topic has been read by more than 25 million people.
"Long Live Premier Li. This should be implemented immediately," said a netizen. Another said: "Please carry it out as soon as possible, otherwise the summer will end soon." Some netizens pointed out some potential problems: "The tickets in scenic spots will rise again."
The State Council has officially promoted paid vacation for employees at least five times this year.
Wu said the State Council had passed a proposal on further promoting tourism investment and consumption during its executive meeting on July 28.
The guideline has made it clear that more effort will be made to push ahead with the implementation of paid vacation rules, Wu said.
It also disclosed further concrete measures that are set to be taken, including encouraging flexible vacation arrangements.
According to a survey by the Ministry of Human Resources and Social Security, only half of qualifying Chinese employees take paid vacations.
While Party and government organs and their affiliated institutions, large state-owned enterprises and foreign-funded companies honor the requirement relatively better, paid vacation rules are poorly implemented in private enterprises as well as small and medium-sized companies, the survey found.
Related: Paid leave a legal right, but shouldn't be forced
BEIJING, Aug. 8 (Xinhua) - The right to paid leave should be legally protected, according to the Labor Law of 1995, but so should the right to forgo paid leave. Some employers, especially government institutions, and local regulations have forced workers to take paid leave, without regard for workers' choice and individual circumstances.