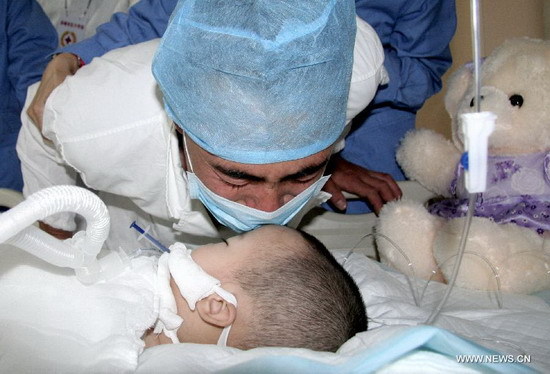 Feng Lei, gives her daughter Feng Junxi a final kiss at a hospital in Beijing, capital of China, June 9, 2012. A couple from Chifeng in north China's Inner Mongolia Autonomous Region decided to donate their daughter Feng Junxi's body organs after her death.
WUHAN - The Chinese mainland recorded 1,479 voluntary organ donations as of August 3 this year, outperforming public expectations after the country banned harvesting organs from executed prisoners on January 1, an expert has said.
A total of 4,066 organ transplants were carried out during the same period, said Huang Jiefu, head of a national human organ donation and transplant committee, on the sidelines of an organ transplant conference this weekend.
Huang expects 2,500 people will voluntarily donate organs and more than 10,000 organ transplant operations will be carried out this year.
Currently about 30,000 Chinese patients need organ transplant according to statistics from 169 hospitals qualified for the procedure. Huang said the number of organ transplants is expected to exceed 20,000 next year if the positive trend continues.
China began a voluntary organ donation trial in 2010 and promoted the practice across the country in 2013. In 2014, China topped Asia in the number of organ donations. There were 1,700 donors giving more than 5,000 organs in 2014, exceeding the total number of the previous five years.
In 2014, voluntary donation from Chinese citizens became the major source of transplant organs, accounting for 80 percent of all donated organs.