FUZHOU - Typhoon Soudelor, the 13th this year, is moving from southeast China's Fujian Province to neighboring Zhejiang and Jiangxi provinces on Sunday morning after it landed in the Chinese mainland on Saturday night.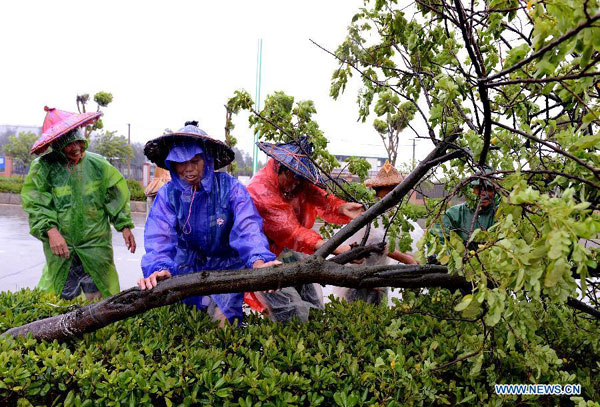 People move away fallen trees in Shishi, southeast China's Fujian Province, Aug. 8, 2015. Super typhoon Soudelor landed on the coast of Putian in Fujian on Saturday night.  [Photo/Xinhua]
Typhoon Soudelor hit Putian City in Fujian at 10:10 pm Saturday and stormed through the province.
As of 7 a.m. Sunday, precipitation in 16 cities and counties reached 250 mm. The city of Fuding experienced the heaviest downpour of precipitation over 501 mm.
In the provincial capital city of Fuzhou, much of the downtown area was waterlogged. More than 10,000 trees were toppled and traffic stalled on flooded streets.
A total of 163,200 people were evacuated onshore on Saturday night,according to the provincial flood control and drought relief office.
Power supply for more than two million households were affected, and 63 of them were recovered as of Sunday morning after urgent repair, according to State Grid Fujian Electric Power Co., Ltd.
Three airports in the province were closed, with more than 530 flight canceled. Six expressways were closed. Also canceled were 191 pairs of high-speed trains.
As the typhoon moved to east China's Zhejiang and Jiangxi Province, the provincial flood control and drought relief office has degraded the level-three Typhoon emergency response to level-two.
Meanwhile, east China's Jiangxi Province launched level-three emergency response as the typhoon is expected to land in the province around Sunday noon.
And the nearby Zhejiang Province has initiated orange alert for rainstorms as heavy downpours have already hit several parts of the province.
Soudelor landed in Taiwan earlier Saturday and left at least six people dead, four missing and 102 injured before it entered mainland China.