China's top court has modified rules governing legally recognized interest rates on private loans following a spike in lending disputes between individuals and companies over the past four years, court officials said on Thursday.
Under the ruling from the Supreme People's Court, Chinese courts will provide legal protection for individuals and companies providing loans at an annual interest rate of 24 percent or less.
Repayments on loans with interest rates of between 24 percent and the 36 percent ceiling will only be protected by law up to an annual rate of 24 percent.
Any contract with an interest rate that exceeds 36 percent will be considered invalid, the court said.
The top court's previous interest rate ruling, in 1991, capped the rate at no more than four times the Chinese central bank's benchmark lending rate, now at 4.85 percent annually for a one-year loan. The maximum currently is 19.4 percent.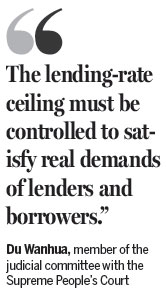 The court said that increasing the allowable interest rate aims to help the rising number of small and medium-size companies that are seeking loans from individuals or fellow businesspeople by making the lending market more active.
Du Wanhua, a member of the judicial committee with the top court, said the new interpretation, which will take effect on Sept 1, will also standardize and protect such lending, as well as reduce the surging number of related cases over the past few years.
In 2011, Chinese courts ruled on 594,000 disputes involving private loans, rising to 729,000 in 2012, a 23 percent year-on-year increase, according to statistics provided by the court.
Last year, the number of private lending cases surpassed 1 million, and in the first half of this year, Chinese courts have concluded 526,000 such disputes, it said.
"The fast growth of lending disputes has resulted in a huge increase in judges' workload, and so to regulate the industry and protect the small enterprises' rights in private loans, we've clarified the interest-rate cap," Du said.
He stressed that the new rule does not mean that rates will continue increasing indefinitely. "Instead, the lending-rate ceiling must be controlled to satisfy real demands of lenders and borrowers," he said.