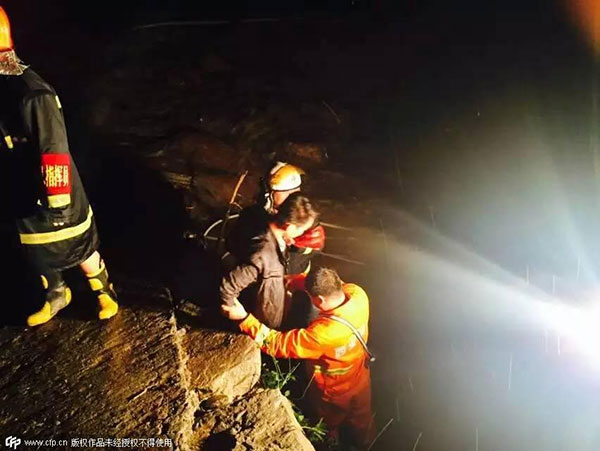 Rescuers try to save the people trapped in the flood, Aug 4. [Photo/CFP]
XI'AN - Five people were confirmed dead and four others remained missing after they were swept away by heavy-rain triggered flood in Northwest China's Shaanxi province on Monday, local authorities said Tuesday.
Thirteen people were washed away from a riverside restaurant at Xiaoyuhe Village in Chang'an District of Xi'an, capital of Shaanxi, at around 5:15 pm. Four were rescued.
The Xi'an Municipal Meteorological Observatory issued a yellow alert for storm at 4:20 pm on Monday, warning that torrential rain may cause landslides and floods.
The precipitation at Xiaoyuhe Village was recorded at 145.7 mm, the highest over the past 30 years, according to rescuers.
More than 50 stranded tourists and villagers have been relocated to safe place, said Liang Bo, a firefighter participating in the rescue.
More than 200 policemen, firefighters, and local residents are still searching for the missing.