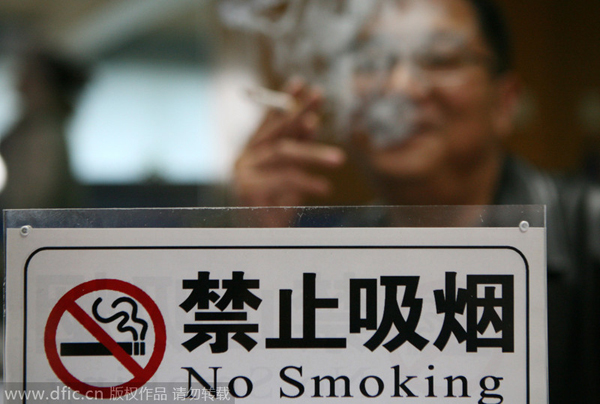 A man smokes a cigarette near a no-smoking sign in Huai'an, Jiangsu province, on Nov 25, 2014.[Photo/IC]
Chinese smokers spent an extra 4 billion yuan (about $640 million) to indulge their habit in June due to a tax hike on tobacco, according to the State Administration of Taxation.
Tax collected from cigarette wholesalers based on taxable prices reached 6.3 billion yuan, an increase of 3.4 billion yuan year on year. Revenue from volume-based tax, totaling 580 million yuan, has also realized a net increase, the administration said.
The new tax policy which took effect in May, more than doubled consumption tax on wholesalers to 11 percent from 5 percent. They are also required to pay an additional 0.005 yuan for each cigarette they sell.
Based on tax declarations by wholesalers, tobacco sales at wholesale level were estimated to drop by 15 percent year on year between May 10 and 31.
The average retail price of cigarettes has increased from 11.7 yuan per pack to 12.8 yuan in the wake of the adjustment.
Statistics show that, besides smokers, the new policy will affect another 20 million people in the tobacco industry, including 1.6 million growers and 5.2 million retailers.
According to the World Health Organization, a 10-percent increase in the price of tobacco products in low and middle income countries would lead to a 5 percent reduction in tobacco use.
The effects are especially pronounced among price-sensitive young people, who are expected to cut their consumption by two to three times more than adults when tobacco becomes more expensive.
In China, increasing the price of a pack of cigarettes by just 1 yuan could save the lives of 3.4 million people, reduce costs of medical treatment by 2.68 billion yuan and generate additional tax revenue of 64.9 billion yuan, according to a 2010 report jointly published by experts in finance, taxation and smoking control.
As the world's largest tobacco maker and consumer, China has more than 300 million smokers, almost the size of the US population, and another 740 million people are exposed to second-hand smoke each year.
According to official data, some 1.36 million Chinese people die from smoking-related illnesses annually.