Xu Gang, a former vice-governor of Fujian and the highest-ranking official in the province to be investigated for corruption since 2012, has been expelled from the Communist Party of China and is likely to be prosecuted.
China's top procuratorate said on Monday that it had filed a bribery case against Xu, who remained in custody.
Xu, 57, had been accused in March of violating Party discipline and laws, a phrase that generally refers to corruption.
A native of Fujian, Xu spent 33 years in provincial politics. He was Party chief of two cities, including Quanzhou, from 2008 to 2013.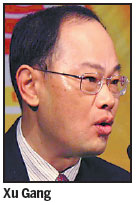 "He violated the Party's eight-point frugality rules, played golf paid for by others, misused his power in the promotion of government officials as well as in company operations, in addition to taking a huge sum in bribes," according to a statement issued by the Central Commission of Discipline Inspection, which recommended that Xu's "illegal gains" be confiscated.
According to Beijing News, Xu was suspected of using his position to grant real estate development projects to favored Quanzhou businessmen and of helping his brother's businesses build cultural industry clusters in the city.
The newspaper cited a local source as saying that another of Xu's relatives was involved in manufacturing road construction machinery. Xu was accused of boosting their businesses when he was the head of the provincial Transportation Department from 2003 to 2005.
The top anti-graft authority also said on Monday that it found that Xu had "breached honesty and self-discipline rules by taking advantage of his post to seek benefits for his wife's business operations."
The discipline commission said Xu, as a senior Party official, had not disciplined himself or stopped his wrongdoings even after the 18th CPC National Congress in late 2012 launched its anti-corruption campaign.
Xu's case is being investigated by the Supreme People's Procuratorate.
zhang_yi@chinadaily.com.cn