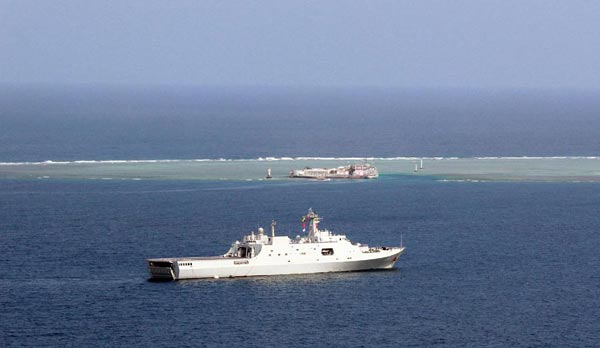 A formation of the Nanhai Fleet of China's Navy. [File photo/Xinhua]
BEIJING - The ongoing South China Sea navy drill was part of the annual exercises, a Chinese navy spokesperson said, suggesting the avoidance of "excessive interpretations."
"Holding sea drills is a common practice for navies with various countries. The annual, regular drill by the Chinese navy aims to test the troops' real combat abilities, boost their maneuverability, search and rescue power and the abilities to fulfil diversified military missions," said spokesperson Liang Yang on Saturday.
Liang noted that such a drill is in line with international laws and practices, and the navy will continue to hold similar drills in the future.
"The Nansha Islands and nearby sea areas have been a part of China's territories since ancient times, but some neighboring countries have long been illegally occupying some of the islands, building facilities there such as airports and even deploying heavy offensive weapons," Liang said.
Liang also noted that "some powerful countries outside the region" lured other countries into the South China Sea issue, deployed vessels and aircraft on recon missions and held various exercises with China as the imaginary enemy, describing such activities as "posing severe threats to our country's territory and sovereignty security and maritime interests while harming regional security, stability and the navigation freedom in the South China Sea."
The Chinese navy will always stay on high alert and keep fully prepared to boost its ability to complete missions, firmly safeguard national sovereignty, security and development interests and ensure regional peace and stability, Liang added.