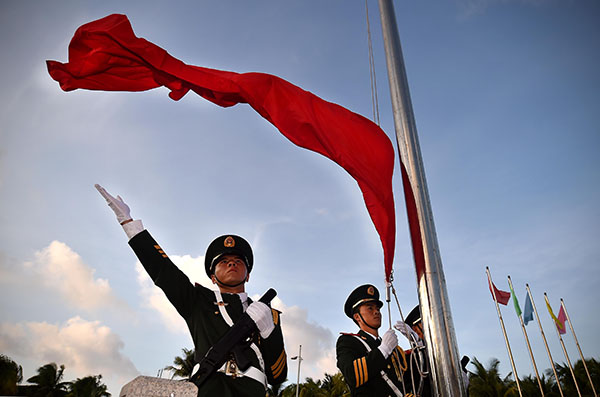 A flag-raising ceremony is held on Yongxing Island in Sansha, Hainan province, on Friday to mark the third anniversary of the city's establishment. Guo Cheng / Xinhua
China's southernmost city of Sansha, which administers a number of South China Sea islands, will soon launch waste treatment facilities as local authorities intensify efforts to protect the local maritime environment.
The city government will soon bring into use a wastewater treatment plant and a garbage treatment plant on Yongxing Island, the Sansha government seat, its news office said in a statement on Friday, which was the third anniversary of the city's establishment.
Xiao Jie, the mayor of Sansha, said protecting the environment and the local ecology will be top priorities for the city government in the near future as it pushes forward improvements to local infrastructure.
Meanwhile, the Sansha authority has launched a fund of 10 million yuan ($1.6 million) a year to encourage fishermen to switch to other sectors, including catering services and the public service sector.
The city will create new job opportunities for its fishing population through the public service sector, including transportation between islands, landscaping and sanitation projects, he said.
Five family restaurants have already been opened by fishermen to cater to visitors on the island.
"We need to improve the income of the fishermen as we encourage them to take up other trades," Xiao said, adding that the authority worried that overfishing near the islets in Sansha might threaten the maritime ecology.
Sansha administers the Xisha, Zhongsha and Nansha islands and their surrounding waters in the South China Sea.
The water treatment plant will process wastewater produced by 6,000 people on a daily basis, while the garbage treatment plant will process more than 2 metric tons of garbage daily.
Improving the infrastructure and living conditions of residents will be a priority for the city government in the near future. "The ultimate purpose of infrastructure improvements is to make the life of residents much easier and improve their happiness index," the mayor said.
The city government has also launched two new departments, a bureau of taxation and a marriage registration service, on Yongxing Island, as the city government seeks to increase its administrative functions.
Additionally, a refrigerated warehouse and a supply center for the fishermen of the Xisha, Zhongsha and Nansha islands were inaugurated on Yongxing Island on Friday.
Contact the writers through xuwei@chinadaily.com.cn